Target has released an early preview of its Black Friday circular and it includes a few Apple products. The most notable deal is probably the 16GB iPad Air Wifi-only model for $479. That's $20 less than the normal SRP, but Target is also throwing in a free $100 gift card, essentially making the iPad Air only $379. So far this is the best deal we have seen for Apple's new tablet.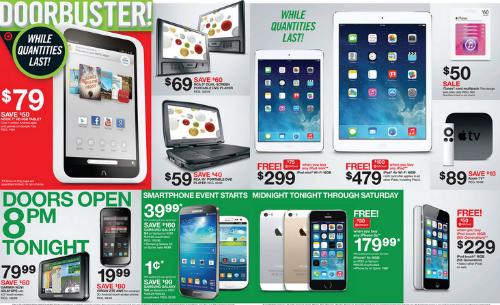 Other deals include free gift cards with the purchase of an and iPad mini, iPod touch and iPhone 5s. You can preview the entire Target Black Friday ad here. The sale begins on November 28 and ends on November 30.
Big box retailers like Walmart, Target and Best Buy have been having a bit of a price war when it comes to new Apple products. All three have one-upped each other at one time or another with iPhone 5c sales, so it is probably safe to assume that their will be more iPad Air Black Friday deals announced very soon.