T-Mobile announced its plans for the iPhone on Tuesday in New York, but did not mention the iPad. The carrier's "Uncarrier" event was mainly focused on the company's new pricing plans for smartphones rather than upcoming devices. However, T-Mobile did mention it would be offering the Samsung Galaxy S4, HTC One and BlackBerry Z10 on its newly launched 4G LTE network.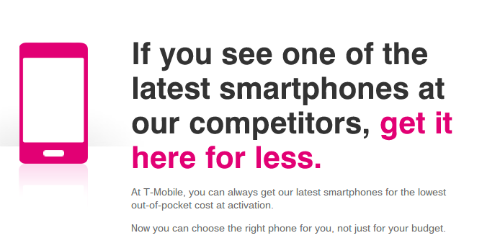 T-Mobile also announced a release date and pricing for the iPhone 4, 4S and 5. Customers can buy any iPhone model without agreeing to a two-year contract. This is how it works: Qualified customers can make a small down payment for an iPhone, then pay off the remaining balance over a two year period. For example, the iPhone 5 from T-Mobile is $100 down with 24 monthly payments of $20. The $20 is added to a person's normal monthly service charge for data. T-Mobile is offering monthly data plans starting at $50/month for 500MB, up to $110/month for 12.5GB. Unfortunately all models are locked until the phone is paid off, however, users can upgrade a device whenever they want by trading it in for "fair market credit".
A T-Mobile "Simple Choice Plan" for the iPhone 4 is $15 down and $15 a month for two-years. A Simple Choice Plan for the iPhone 4S is $70 with 24 monthly payments of $20.
The iPhone 5 will be available everywhere on April 12th. The iPhone 4 and 4S will also be available on April 12th but only in "select markets". T-Mobile did not announce which markets are included. You can pre-order all three models on April 5th through T-Mobile.com.