Steve Jobs announced a brand new product at Apple's special event today in San Francisco. The long-anticipated tablet is named the iPad and is designed to fill the gap between smartphones and notebook computers.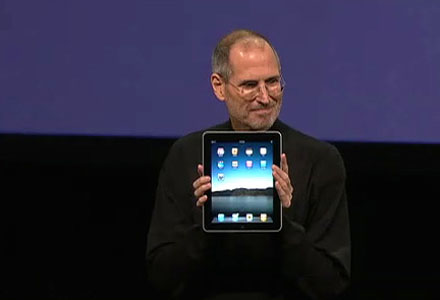 Jobs described the iPad as magical and revolutionary as he explained how and why the device will change the world of mobile computing. iPad is designed to be better for browsing, email, photos, video, music, games and ebooks than any other device.
The iPad has a glass screen, an aluminum back, and weighs 1.5 pounds. The tablet is only half an inch thick, and includes an accelerometer, compass, speaker and microphone. No matter which way you turn the iPad it will adjust its display to the correct orientation.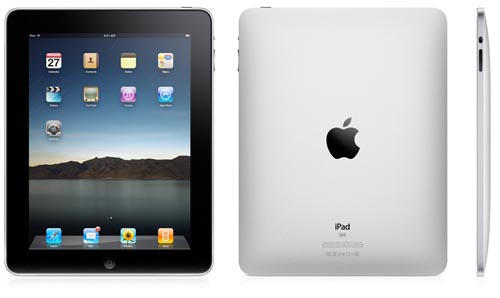 Fast multi-touch response times and high resolution graphics are made possible by a low-power custom processor, the Apple A4 chip running at 1 GHz. Apps such as Calendar, Notes, Mail and Safari have been redesigned and optimized to take advantage of the larger touch screen. Jobs sat on a chair to demonstrate how an iPad user might interact with the device.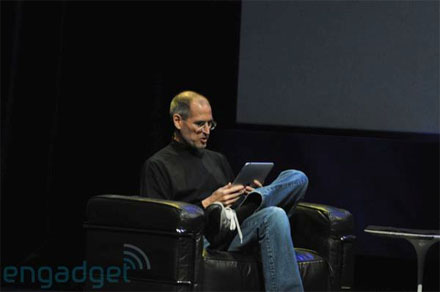 The iPad-optimized applications had additional drop-down menus and featured a large virtual keyboard that appeared on the lower half of the screen when composing a new email. The iPad, like the iPhone, features Google Maps and supports street view.
The 9.7 inch IPS LED-backlit display has a wide viewing angle so when two or more people are looking at the screen it looks sharp from the side. Resolution is 1024 x 768 pixels at 132 pixels per inch. Battery life is long, with 10 hours of video playback and a month of standby time.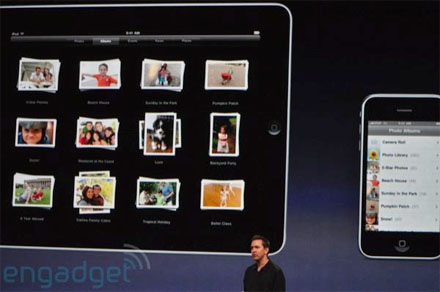 Scott Forstall explained that all existing iPhone applications will run on the iPad immediately. They can be opened at 1:1 or expanded to fill the screen in a special low-resolution mode. Ultimately developers will optimize apps for the iPad with the latest iPhone OS 3.2 SDK.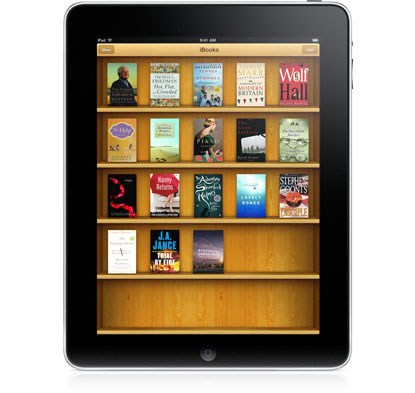 Another brand new piece of software that will run on the iPad is iBooks. Apple is adding a third store in conjunction with the iPad specifically devoted to electronic books. Pictured here is a collection of ebooks on the bookshelf in iBooks. A user can quickly pull up the iBookstore and browse books, then purchase and download directly to the iPad to read instantly.
Phil Schiller showed off iWork 2010 and its multi-touch optimized user interface. Some of the highlights include multiple input keyboards for specific tasks and pop-up menus that make it possible to work without a mouse.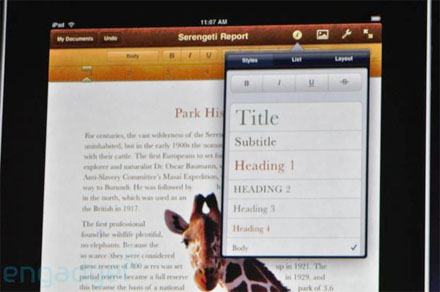 The latest version of iWork will go on sale in the App Store. Apple will sell each component (Numbers, Pages and Keynote) for $9.99 a piece.
The iPad will sync with a PC or Mac computer over a USB connection, just like an iPhone. This backs up all of your purchases and data. Wi-Fi 802.11n and Bluetooth 2.1 are standard, however some iPad models will also have 3G cellular connectivity.
Jobs explained that Apple made a breakthrough deal with AT&T to provide contract-free data services to iPads in the US. Rates will be $29.99/month for unlimited data and $14.99/month for 250 MB. The 3G capable models include a GSM microSIM card and will not be locked to a specific carrier.
The 3G service is pre-paid and can be activated with AT&T directly on the iPad. Jobs is expecting that Apple will have similar deals in other countries by this summer.

Jobs says the Wi-Fi only models will ship in 60 days, and the Wi-Fi + 3G iPads will ship in 90 days. According to the pricing chart, Apple has come in at or below what many had predicted an iPad would cost. Apple of course would like to see the device in as many people's hands as possible, and stands to increase revenues from iTunes Store, App Store and iBookstore sales as well.
Similar to the company's notebook computers, Apple has made environmental efforts to insure the iPad is manufactured without arsenic, BFR, mercury or PVC. The glass and aluminum on the case are also considered highly recyclable.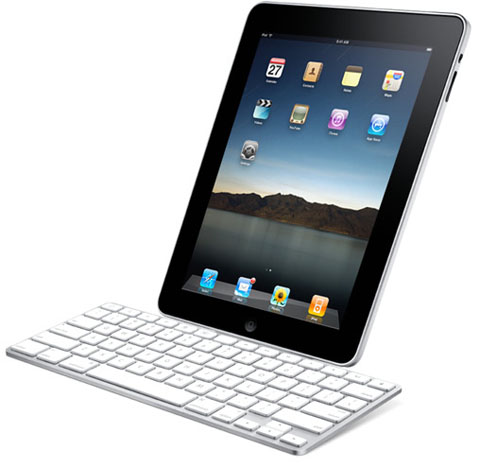 The iPad already has some interesting accessories. As third party manufacturers start getting involved there are sure to be many more. The keyboard dock pictured above makes it possible to use the iPad more like a traditional computer. Other accessories announced by Apple include a USB digital camera connector and an SD card reader.
Apple has released a video to show off its new product. The video runs eight minutes and gives a great overview of the iPad. Everything on the device is redesigned from the ground up, and Apple has adapted their multi-touch technology from the iPhone into yet another game-changing product.
See a complete list of iPad specifications.