The classic RPG Star Wars: Knights of the Old Republic is $5 for a limited time for the iPad. Publisher Aspyr Media has cut the price in half in celebration of the game's 10th anniversary. KOTOR was originally developed by BioWare and published by LucasArts for the Xbox and PC in 2003, before being ported to the iPad in 2013. The game's graphics are a little underwhelming by today's standards, but Knights of the Old Republic is still considered one of the best Star Wars RPG games ever created for consoles and computers.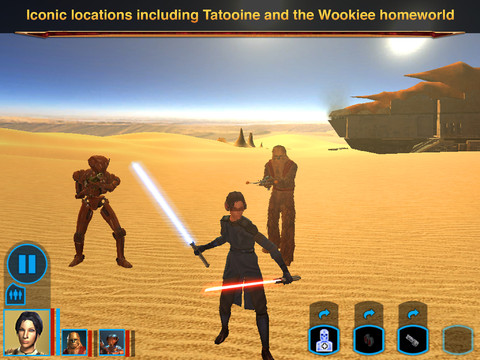 The game takes place 4,000 years before the rise of the Galactic Empire. Players must search the galaxy for information about the "Star Forge" while piecing together their character's past. The game also features two endings based on a player's decisions in the game. You can either choose to be a savior of the Jedi, or turn to the dark side and join the Sith.
The game is only available for the iPad, and it requires a hefty 2.5GB of storage space to install. Your iPad also needs to be running iOS 6 or higher for it to work. You can download Star Wars: Knights of the Old Republic for just $5 for a limited time via the Apple App Store.