In a press release earlier this week, SquareTrade, the leading online provider of supplemental warranties for consumer electronics, announced it is now offering a buyback guarantee at no additional cost as an accompaniment to its iPad 2 warranty. Many retailers, such as Best Buy, offer similar buyback guarantees for prices as high as $69.99.
Buyback warranties have become popular lately, as manufacturers trend towards shorter and shorter product release cycles. Many consumers have become hesitant to upgrade certain devices, for fear that the next generation version of that device is right around the corner. Buyback warranties, by guaranteeing consumers the return of a certain portion of their original purchase price when they trade their device in, aims to reduce this burden.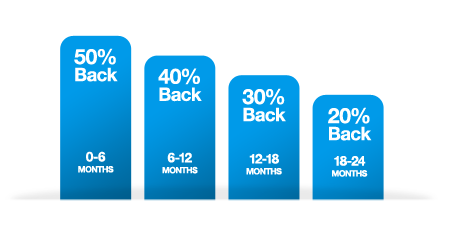 The buyback warranty, offered through third party company TechForward, offers warranty holders up to 50% of their iPad 2 purchase price back if they return their iPad 2 within 6 months. After that, the return value decreases, but continues to offer customers value in return for their iPad 2 for up to two years after their initial purchase. As illustrated by the chart above, a return 6-12 months after purchase yields 40% back, 30% back 12-18 months out, and finally 20% back during the 18-24 month period.
A traditional SquareTrade warranty offers additional protection over the included AppleCare warranty provided by Apple, by offering accident protection. Accidents such as drops, spills, and mishaps are covered, while AppleCare only covers manufacturer defects. A SquareTrade warranty also offers comprehensive protection for up to three years, the included AppleCare warranty only covers one year (but can be extended to two years an an additional cost).
SquareTrade, and similar competing warranties, have become increasingly popular with consumers, especially for accident-prone devices such as the iPad and iPhone. SquareTrade routinely receives excellent ratings from its millions of warranty holders, is the winner of the 2011 Stevie Award for best eCommerce Customer Service, named one of PC Magazine's Top 100 Websites of 2010, and awarded BizRate's Circle of Excellence for 2010.
For more information on SquareTrade iPad warranties, visit the SquareTrade iPad Warranty page.