The iPad's lack of multitasking ability has been a constant source of attacks by rival tablet makers' TV ads, and a much requested feature by iPad users. Several weeks ago a rumor surfaced that Apple would add multitasking functionality with the release of iOS 8. Now, according to New York Times technology writer, Brian X. Chen, it appears unlikely that the multitasking ability will be unveiled at WWDC 2014.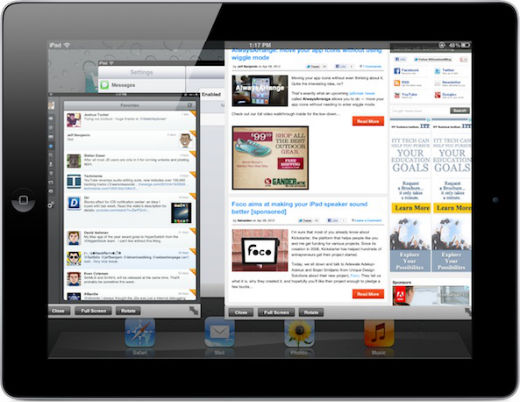 In a recent tweet, Chen said that he had been told "the split-screen feature isn't ready yet and won't be shown at WWDC," apparently it is still a work in progress. This is far from a death knell however, as 9to5Mac reports that "iOS 8 is likely to supercharge the functionality of Apple's iPad with a new split-screen multitasking feature, according to sources with knowledge of the enhancement in development."
There are several jailbreak tweaks that allow for multitasking (pictured above is Quasar), but it is unclear exactly how Apple's official split-screen multitasking ability will work. It is rumored to be in development for the 9.7" iPad and work in landscape mode only, but unknown whether the feature will be available for the iPad mini. It could be similar to the feature on Microsoft's Surface 2, which allows you to drag an app in from the side of the screen and "snap" it into place in a designated position, then do the same with a second app. It only allows for two apps, and Apple's version will likely follow suit.
The unveiling of iOS 8 will be one of the highlights of WWDC 2014, which will kick off with a keynote presentation this Monday morning, June 2, at 10:00 AM PST.