SEGA's newest Sonic the Hedgehog game is now free for a limited time. Sonic Dash was released for the iPad and iPhone in early March. It is the eight iOS game starring SEGA's iconic hedgehog.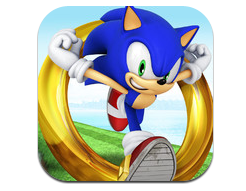 Sonic Dash offers a Story mode, where players can play as either Sonic, Tails and Knuckles to stop Dr. Eggman, or an endless runner Arcade mode like Temple Run. There is also a Challenge Friends mode where players can try to top other users' best scores. Story mode offers 48 different levels and boss battles, and all three modes offer leader board support.
Version 1.1.0 was recently released with new daily challenges and a few bug fixes, including improved performance on the iPhone 4 and iPod touch (fourth-generation).
You can currently download Sonic Dash for free through the App Store. It will only be free for about a week before returning to its normal $1.99 price!
Sonic Dash is a universal app and is optimized for the iPhone 5. It requires iOS 5.0 or later to work.