Most iPad fans are familiar with Apple's Smart Cover. Now the company has improved upon its initial offering by adding protection for the iPad back with the Smart Case. This accessory fully covers the entire body of the iPad as well as providing a familiar Smart Cover for the display.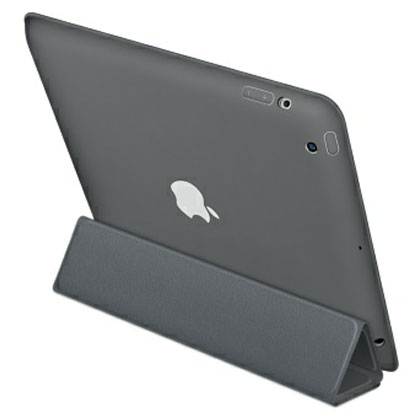 Unlike the Smart Cover, Apple's Smart Cases are only offered in polyurethane, with six colors to choose from including black, blue, green, grey, pink, or red. Apple is also offering free laser engraving for the back of the Smart Cover, to personalize the accessory. This is a great alternative for those who were reluctant to laser engrave the aluminum back of the iPad.
Some iPad owners were purchasing Apple's Smart Cover and adding other third party cases to the back of the device for added security. The Smart Case provides the same stand functionality for typing and media viewing as the Smart Cover. Magnets inside of the accessory trigger the iPad display to sleep or wake up when the cover is closed or opened.
The Smart Case is compatible with the iPad 2 or new iPad (iPad 3) and runs $49.00 with free shipping from Apple. Find more information from the Apple Store Online.