It has been a great few weeks for strategy game fans, especially those who enjoy playing tactical war simulations on their iPad. Several games such as Ultimate General: Gettysburg have recently been released to the App Store, and video game publisher Slitherine has just launched a second title today. Vietnam...'65 is another war strategy game from the creators of Battle Academy. This time players must win the trust of the local population by waging a counter-insurgency against the Vietcong.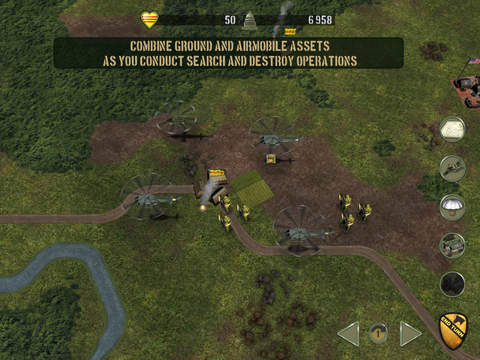 The game promises to "capture the true essence of the Vietnam War" by featuring a "Hearts and Minds" victory condition where players are tasked with keeping the support of the American people back home. Players must win a political victory while coordinating ground troops and carrying out airmobile operations to stop the North Vietnamese Army from "unifying North Vietnam with the South under communist rule."
The game features a full range of US units, firebases and artillery support, special forces like the Green Berets, the ability to train the South Vietnamese Army, napalm strikes and more.
Vietnam...'65 is available on the App Store for $9.99.
Last week Slitherine took the battlefield to hell by releasing the PC game Fight for Gilrand to the App Store. In the game players can choose to command the Order of Radiance or the Demons of Hell in a single player campaign or cross platform multiplayer.
Hell: Fight for Gilrand is also available for $9.99 on the App Store.