Skype has released the first version of its free iPad application on the App Store. Unlike the iPhone software which is already in its third iteration, Skype on the iPad has garnered mixed reviews. The company initially launched the app on Monday, however it was pulled down and re-released Tuesday after some minor fixes.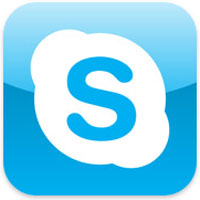 The Skype app weighs in at 16 MB and requires iOS 4.0 or later for operation. Although original iPad users can run the app, video can only be received on the device due to the lack of a built-in camera. iPad 2 users will be able to chat with video up to 1280 x 720 pixel resolution at 30 frames per second.
Calling to other Skype users, land lines or mobile phones, messaging and video chat works over Wi-Fi or a cellular 3G data connection. The app will be a stiff competitor to Apple's built-in FaceTime, as it beats the latter in video calling resolution and works over 3G. iPad 2 users can switch between the front and back cameras while on a Skype video call, just like FaceTime.
Although Skype users might be looking forward to an app optimized for the larger iPad screen, functionality suffers due to some design quirks. Not only this, but some users have reported occasional freezing and lag when switching between options. Unfortunately, there's also no option to add Skype credits from within the app. This will have to be done elsewhere for Skype users looking to give the company money.
Like their other mobile apps, Skype for iPad will stay open in the background so that incoming calls won't be missed while logged in. Changes may be coming to the company as Skype was recently acquired by Microsoft. The company also made an agreement with Facebook for tighter integration with the social networking giant. In the meantime, download the iPad Skype app for free via iTunes.