If the cases in this photo look familiar, then you probably own an Apple Smart Cover for iPad 2. Even if you don't have one of your own, the Anymode Smart Case for the Samsung Galaxy Tab 10.1 is a clear ripoff of the Smart Cover. Even the colors and name are strikingly similar.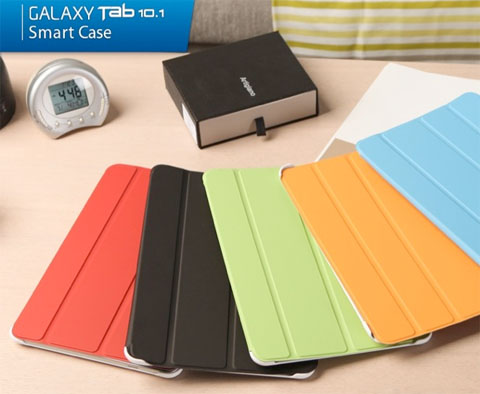 Samsung was prompted to pull the product after it came to light, citing a lack of "Designed for Samsung Mobile" certification. According to Samsung, Anymode did not have permission to use the mark on the Smart Case and none of the units were sold.
The incident comes at an awkward time for Samsung, as the company is currently fighting off legal action at the International Trade Commission (ITC) by Apple regarding technical and design patents. Samsung is also waging its own suit against Apple for violating its patents of wireless communications standards and mobile user interfaces.
In the meantime, Samsung has allegedly sent high-resolution LCD iPad 3 displays to Apple for testing. The company is competing with LG Display to supply iPad displays to Apple when the next generation tablet begins production. The Anymode Smart Case flap might not help Samsung's public relations, however the company did issue a statement quickly:
As a general practice, Samsung Electronics reviews and approves all accessories produced by partners before they are given the 'Designed for Samsung Mobile' mark. In this case, approval was not given to Anymode for the accessory to feature this official designation. We are working with Anymode to address this oversight and the product has already been removed from the Anymode sales website. The product has not been sold.
In any case, the Smart Case did not function like the Apple Smart Cover, as both the Samsung Galaxy Tab 10.1 and the case lack magnets.