Are you a fan of classic arcade games? ThinkGeek fooled everyone last April with their mock-up of the iCADE retro iPad gaming cabinet, complete with a quarter slot and Donkey Kong. Turns out that Ion Audio is partnering with Atari and ThinkGeek to offer the real thing for $99.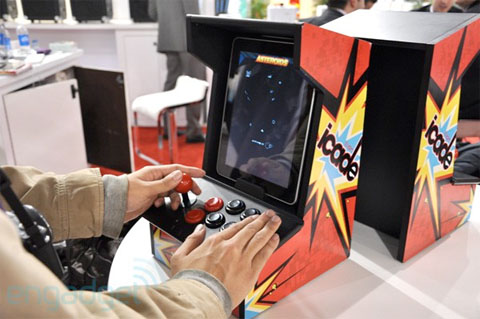 A great-looking Bluetooth tabletop arcade cabinet, the iCADE was showcased at the 2011 Consumer Electronics Show (CES) with a specially developed iPad version of Asteroids. The top of the unit lifts up and any iPad drops right into the unit. Joystick controls and buttons connect wirelessly to the iPad for a tactile gaming experience.
Besides the joystick, iCADE has eight individual buttons, making it possible to play a wide variety of games including more recent titles. Ion Audio describes the controls as "authentic" and "full-sized" while explaining that the iPad cradle is designed for a safe, secure fit.
Both Ion Audio and ThinkGeek will be selling versions of the iCADE, with ThinkGeek offering retro cabinet graphics to match their April Fool's joke mock-up. Originally a free iPad MAME emulator app was planned for the App Store, but now it looks like Atari itself will be developing classic titles.
ThinkGeek lists the iCADE with an estimated shipping date of April 15, 2011. Here are specifications from their product page:
- Beautifully retro-styled tabletop arcade cabinet for your otherwise useless iPad
- iPad connects to the iCADE controls via Bluetooth
- Atari providing classic games ready to go with the iCADE, including Asteroids and other top games
- API to be released allowing any iOS developer to create iCADE-compatible games
Opening up game development for the iCADE is a great idea that should lead to even more compatible games for the accessory. The only problem is you'll have to step away to let friends and family compete against your high scores.