RadioShack is offering a $100 gift card with the purchase of a first-generation iPad mini. The promotion only applies to 16GB Wi-Fi models and is only available in stores. RadioShack did not give a specific date for the end of the promotion, but did say it is available for a "limited time this holiday season." This suggests the promotion will probably end around the 24th or 25th of December, unless the retailer decides to extend it.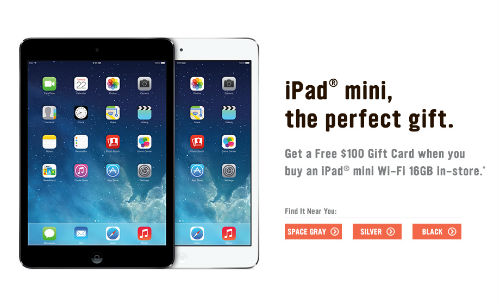 RadioShack is also offering up to $350 towards the purchase of a new tablet when you trade in an eligible iPad through its Trade & Save program. However, as we demonstrated before, most retailer trade in programs offer a lot less money for used Apple products than companies like Nextworth.com or Gazelle.com. Not to mention these companies offer cash, so you're not stuck with another store-branded gift card when you sell your used device.
You can use RadioShack's online store tracker to find a retail location near you. It is a good idea to call ahead to make sure your local RadioShack is participating in the promotion, and has the right iPad mini in stock before you make any pointless trips.