Plants vs. Zombies 2: It's About Time is finally available for iOS devices. The sequel to PopCap's popular tower defense game expands on the original with new plants, zombies and touch-based power-ups. The new power-ups allow you to squash, flick and zap yourself out of sticky situations, as long as you have enough in-game coins to afford them. The game also features a new time traveling story line where you have to go back in time to find your neighbor's missing taco.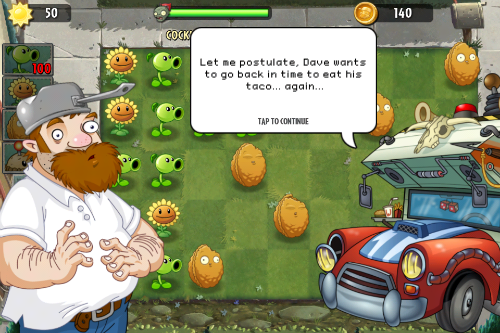 There was never any doubts that PopCap would deliver a feature packed sequel, but the big question was if its freemium status would affect game play. So far it looks like in-app purchases are not necessary to enjoy the game. This means users do not have to shell out real cash, or wait a certain amount of time to access any of the game's features. You can however buy more coins and additional plants and upgrades if you want to gain an advantage. The Torchwood and Snow Pea plants are currently the most expensive in-apps purchase at $4 each. Of course there are already people complaining about the prices in the Customer Review section, but that is to be expected.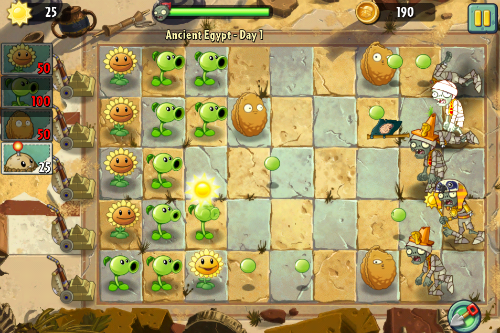 Plants vs. Zombies 2 is now available for free from the App Store. It supports the iPhone 4 and up, iPod touch 4th generation and up, iPad 2 and up, and the iPad mini. Your device needs to be running iOS 5 or higher for the game to work.
Game Features

NEW PLANTS! NEW ZOMBIES!
Meet Bonk Choy, Bloomerang and Lighting Reed: Just a few of the powerful new plants that will defend your lawn through time. Go toe-to-missing-toe with dozens of new zombies including Ra Zombie in Ancient Egypt, Swashbuckler Zombie on the Pirate Seas, or Chicken Wrangler Zombie in the Wild West. In every new world, clever new zombies and brain-teasing challenges will test your zombie-zapping skills.

AMAZING NEW WAYS TO PROTECT YOUR BRAIN
New Plant Food and power-ups will take your game to new dimensions. Plant Food will supercharge your plants when you need it most. Use your fingers to pinch, flick and zap zombies off your lawn.

LOOK OUT! ZOMBIE CHICKENS!
Seriously.

NEW LEVELS OF EXCITEMENT
Battle the fun-dead on land, on sea and… on the rails? Unlock ultra-challenging (and ultra-fun) endless levels — Pyramid of Doom, Pirate's Booty and the Big Bad Butte.

THE FUN NEVER DIES
Gather keys to unlock brain teasers and new plants. Collect coins to purchase potent power-ups. Earn stars to take you to new worlds. Survive long enough and you'll be rewarded with piles of prizes and achievements. And that's just the beginning! The future holds many mysteries. Also, zombies. Lots and lots of zombies.