The online betting website SkyBet has released their odds for the upcoming iPad 3 specifications. I wonder what happens if Apple doesn't call their next tablet the iPad 3? Can you still collect if Tim Cook announces the "iPad plus"? SkyBet also forgot about the iPad mini, camera type and the size of the next generation tablet.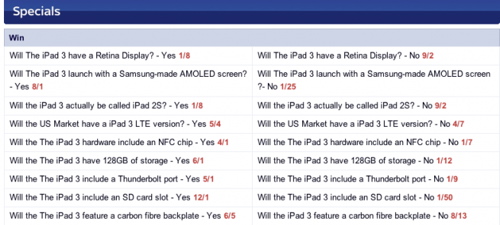 I would bet "Yes" on Retina display since many sources and leaks have pretty much confirmed it.
You will need to place your bets before next Wednesday, March 7, when Apple will announce the next generation iPad at the Yerba Buena Center for the Arts in San Francisco. Good luck!