The 1994 PC game Transport Tycoon has officially been ported to iOS devices and is now available on the Apple App Store. The business simulation game allows users to control and build a transport company from the ground up. The iOS version of the game includes all the classic elements of the original, plus various new features, expanded worlds and a large variety of land, sea and air vehicles.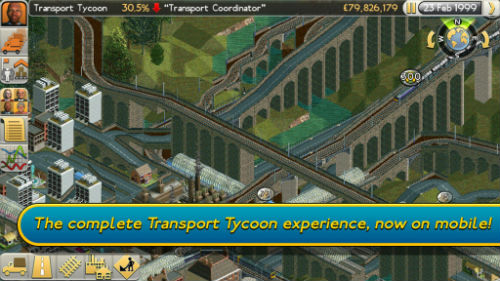 The official app description touts "over 150 vehicle types", a "wide range of beautiful landscapes including deserts, forests, mountains, valleys and islands", and "real-world" scenarios modeled after "regions of North America and Europe at different periods in the 20th century." Players must compete against A.I.-driven competitor companies while playing through 49 scenarios and taking on various challenges.
Transport Tycoon is $6.99 and supports the iPad, iPad mini, iPod touch and iPhone. It requires iOS 5.1 or later.