App developer FiftyThree has released a new drawing app for the iPad. Paper is a free app that allows you to sketch, draw and keep notes by using a variety of tools. The custom ink engine reacts to movements allowing you to achieve great handwriting, beautiful coloring, and sketching. You can also share your creations on the web by easily uploading them to Tumblr, Facebook and Twitter. .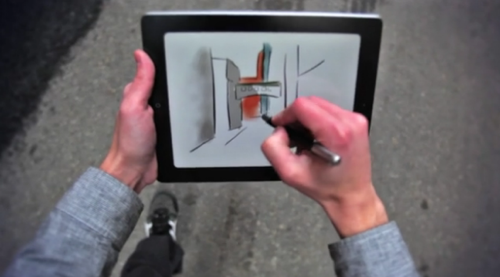 There are $2 in-app purchases for additional tools and brushes. Read on for Paper's official description and trailer. Paper is compatible with the iPad and requires iOS 4.3 or later.
Paper is where ideas begin. It's the easiest and most beautiful way to create on iPad. Capture your ideas as sketches, diagrams, illustrations, notes or drawings and share them across the web.

Mobile creation done right:

Paper was designed from the ground up for touch and creating on the go. No fussy buttons, settings or other distractions. Paper works the way you think, like a familiar notebook or journal. Have all of your ideas with you in one place.

Essential tools, settings-free:

Productivity meets beauty. No settings. Always beautiful—like great tools should be. Just pick up a tool and instantly begin to Sketch, Write, Draw, Outline and Color. Draw comes free with Paper.

Purchase additional tools from the in-app store:

- Sketch. Ideas start here. The pencil blends from light to dark for sketching scenes, objects, and thoughts in rough form.

- Write. Words never looked so beautiful. Write messages, add captions, or create lists with this quality ink pen.

- Outline. Think bold. Graph insights, create a storyboard, or outline a presentation with this marker. Black lines stay black.

- Color. Give color to your ideas. Move from a light wash to deep, rich color in one stroke with this watercolor made easy. You've got to try it.
Paper is also compatible with the iPad 3's Retina display.