Apple's next-generation A6 mobile processor is sure to pack some impressive specifications, however a new report indicates the chip may not ship with the iPad 3. The upgrade is expected to provide 30 percent more computing power with half the power consumption, all while running at a cooler temperature.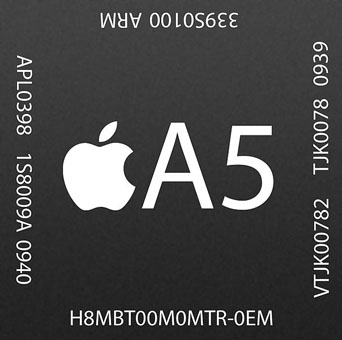 According to the International Business Times, analyst Chris Caso explains that manufacturing of the iPad 3 will begin in the last quarter of 2011, but the A6 processor is not ready for prime time. Apple debuted the current A5 dual-core processor in the iPad 2, and future iPhones are expected to make use of the technology.
Caso's information may point to an A5 processor in the iPad 3, but there is conflicting information out there. The Wall Street Journal reports that the iPad 3 will enter a trial production and testing stage in October, with public release scheduled for sometime in early 2012. According to their sources, the A6 is already in a trial production phase and is likely to ship with the device.
The A6 system-on-a-chip (SoC) contains a quad-core processor and is manufactured using a 28 nanometer process, an upgrade from the A5's 45 nanometer construction. In addition, two or more layers of components can be added to the system using three-dimensional stacking technology. Taiwan Semiconductor Manufacturing is said to be Apple's new supplier, while Samsung continues to manufacture the A4 and A5.
This would not be the first time Apple has released an updated product while keeping the same processor. In fact, the original iPhone and the iPhone 3G shared the same Samsung S3C6400 chip running at 400-412MHz. The original iPad shares the A4 processor with the current iPhone 4.