No way. Leave it to DigiTimes to keep the iPad rumor mill in full swing. The publication has reported that new iPad models could be on the way as early as fourth quarter 2010. Considering that Apple has had a difficult enough time delivering three million units sold to date, this doesn't sound very likely.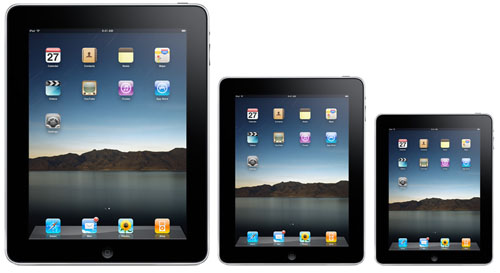 In the same report, DigiTimes cites sources in the industry who claim Apple has placed orders for OLED screens from Taiwanese component maker Compal. The current iPad features an IPS LCD display, the most expensive single component featured in the hardware design. OLED screens are still more expensive to produce, and even OLED giant Samsung Electronics is having trouble fulfilling orders for its own products.
With such a shortage of OLED production capacity, the switch to OLED in the iPad looks premature. After all, rumors of an OLED screen in the iPhone 4 and iPhone 3GS were bouncing around for months and never came true. As if this isn't enough already, DigiTimes goes on to explain that the screens ordered by Apple are in two sizes, 5.6 inches and 7 inches.
5.6 inches and 7 inches? Unfortunately, this reminds us of iPhone Nano rumors we'd much rather forget. Why would Apple want to make their mobile products less usable? Three sizes of iPad would not only confuse consumers, it would cannibalize sales of Apple's existing products. The publication claims smaller sizes would be focused more on the e-reader market, while the existing 9.7 inch iPad would be all about multimedia.
DigiTimes senior analyst Mingchi Kuo is quoted in the article basically destroying these OLED claims by pointing out that OLED production capacities won't improve until the second half of 2011. With any luck these rumors can come back then, and focus on the third-generation iPad hardware coming in April 2012.