The New York Times has released an HTML5-powered web app for the iPad. Times readers can access the app by subscribing to a digital subscription package at www.NYTimes.com/Access. iPad users can choose between the Web/Tablet package or All Digital Access package (includes smartphones). Each package is $0.99 a week for the first four weeks and $5.00 a week thereafter.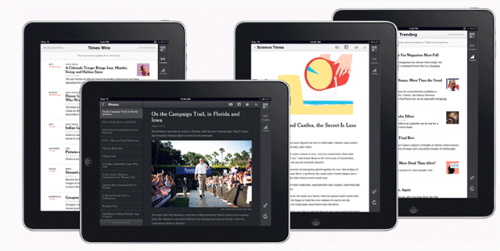 The app features four ways to access content:
4. All Sections: The full breadth of Times coverage, from breaking news, to video and photography.
3. Today's Paper: In this reading format, users can browse the app like they would the newspaper, with sections organized under print topic headings.
2. Times Wire: A continuous, reverse chronological feed of the latest articles, videos and slide shows published on NYTimes.com.
1. Trending: The Trending section lists the top 25 trending Times articles on Twitter from the past hour. This section functions in conjunction with Cascade, a proprietary data visualization tool developed by The Times Company's Research & Development group, which monitors the sharing of content on Twitter.
The NYTimes Web App can be installed by visiting App.NYTimes.com on your iPad's browser. You must be running iOS 5.0 or later.