Here are this week's most noteworthy iPad games released to the App Store between 05/11/14 to 05/17/14.. Click here for a complete list of new iPhone Apps and Games also released this week. Apple's Free App of the Week is the hotel booking app Kayak Pro. The app will be free on the App store until 05/22/14.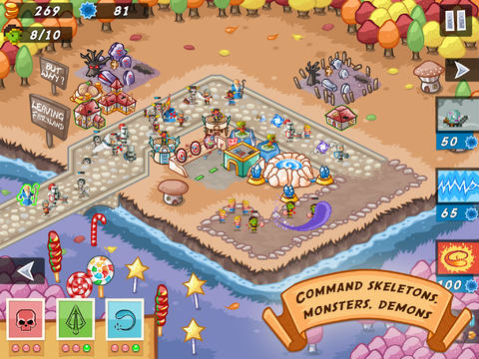 Demons vs Fairyland HD ($2.99 for the HD version, $0.99 for the iPhone version)
If you love demon babies and hate fairies then this is the game for you. In Demons vs Fairyland you must summon an army of skeletons, zombies and other monsters to stop the fairies from stealing your children!
Demons vs Fairyland is a strategic tower defense game that promises hours of gameplay. It features over 50 achievements to unlock, four game modes, several types of towers (support towers, offensive towers and totems) with six unique tower specializations and 12 tower spells. There is also lots of loot and gear to collect so you can upgrade and fund your army of the undead.
Thomas Was Alone $8.99
If demons and fairies are not your thing then maybe Thomas the curious rectangle will interest you. Thomas Was Alone is a well reviewed platform / puzzle game where you help Thomas "unravel the mysteries of his existence". The game includes 100 levels and an "emotional" story narrated by Danny Wallace.
Music Apps
- Modal Pro ($4.99) Build your own synthesizers and effects by connecting various modules together
- BOOM 909! ($0.99) A drum machine for the iPad
- Voxen ($7.99) A voice synthesizer that lets you synthesize singing voices