Once again there were zero iPad-only games released to the App Store, but two big universal titles did arrive this week: BioShock and Tiny Tower Vegas. We should see an increase in App Store activity in a couple of weeks after Apple announces the iPhone 6 and releases iOS 8.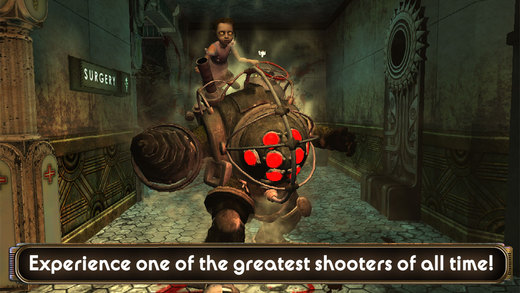 In App Store news, Rovio released a 16-second gameplay trailer for Angry Birds Stella before its September 4th launch. You can watch the trailer after the break. This weekend is the last chance to get the first wing of Hearthstone's "Curse of Naxxramas" expansion for free. After September 1st the wing will cost 700 in-game gold or $6.99, just like the other four levels.
As always, don't forget to check out our weekly App Store recap every Saturday for all the weekly universal releases, jailbreak tweaks, App Store news and important app updates.
BioShock for the iPhone and iPad is $14.99, not $18.99 like we originally reported. The game is a port of the original 2007 Xbox 360 and Windows release. It is a biopunk first-person shooter that takes place in the 1960s. Players must biologically modify their character with genetic augmentations to escape the underwater city of Rapture. Here's the official App Store description:
BioShock is the "genetically enhanced" first person shooter where you can turn everything into a weapon: the environment, your body, fire and water, and even your worst enemies.

You are a cast-away in Rapture, an underwater Utopia torn apart by civil war. Caught between powerful forces, and hunted down by genetically modified "splicers" and deadly security systems, you have to come to grips with a deadly, mysterious world filled with powerful technology and fascinating characters. No encounter ever plays out the same, and no two gamers will play the game the same way.
Tiny Tower Vegas is the sequel to NimbleBit's popular simulation game Tiny Tower. The game allows players to build their own hotel and casino, and earn extra coins by visiting their or by playing casino games. Tiny Tower Vegas is free with in-app purchases.
Other Noteworthy App Store Releases
ACC Football Challenge 2014 ($0.99)
Every Saturday, lead your team to victory in a virtual second-screen experience! Compete against rival schools in the app while the teams play for real on the gridiron. Then check back in or watch the ACC Network television broadcasts to see which schools emerge victorious.
ALONE... ($1.99)
ALONE is a handcrafted, intense survival journey through space. Navigate caves, rip through rocky debris, dodge rocks and comets and test your endurance as you pursue ever higher scores in this ultra fast, procedural runner.
Armies of Dragons (Free)
Defend your kingdom from rampaging hordes in this new kind of strategy and fortress defense game! Summon the power of the four elements, and elementally charge your armies before sending them to defend three lanes! Train, upgrade, and manage the growth of your warriors to forge a formidable army! Unlock powerful champions to fight for you—and eventually, call forth mighty creatures like treants, golems, and even good dragons to help you win!
Madden NFL Mobile (Free)
BOOM! Dominate your friends in intense head-to-head shootouts. This is MADDEN NFL like you've never seen it on mobile. Collect current and legendary NFL stars, then put them in action on your favorite NFL team. Play all season long – we've got live events and fresh challenges to connect you to the action anytime, anywhere.
Appointment with F.E.A.R. ($2.99)
Travel back to the 1980s as a superpowered defender of justice in this all-new edition of Steve Jackson's Appointment With F.E.A.R.! This dynamic edition is stylized as an interactive graphic novel. Your choices guide you towards new villains, super dilemmas, and ultimately, the Titanium Cyborg himself!
Chunky Cat (Free)
There's a reason this cat is so chunky! There are so many delicious critters roaming around the city roofs, not even a fat lazy cat like Chunky can ignore them! Help him catch as many snacks as you can, but beware! There are many dangers lurking around. Dangerous falls, mice traps, guard dogs and other perils will try to end Chunky's quest for mighty food. Don't let them!
Music Apps
- Gumdrops * beats so sweet, you're bound to get ill ($4.99)
"Gumdrops takes your beats to the next level with the power of a 64 track / 32 step sequencer combined with the expressiveness of a hand-crafted instrument."