It was a big week for both iPhone and iPad games this week. Several big titles including Sid Meier's Starships (iPad only), Dungeon Hunter 5 and Five Nights at Freddy's 3 all landed on the App Store on Thursday. The question isn't if you should download these games, but which one should you play first? Other big universal titles released to the App Store this week include: Angry Birds Stella POP!, Star Wars: Card Trader and Card Crawl.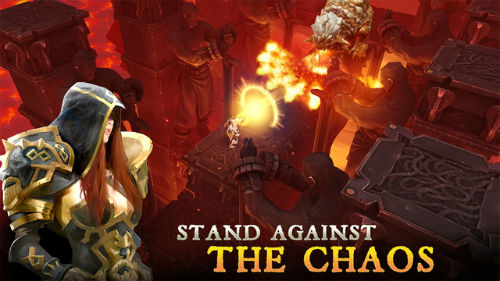 Here are the rest of this week's most noteworthy iPad app releases for 03/08/15 to 03/07/14. Apple's Free App of the Week is 8bit Doves. The game will be free on the Apple App Store until 03/19/15. Also don't forget to check out our App Store recap every Saturday for all the weekly universal releases, jailbreak tweaks, App Store news and important app updates.
Sid Meier's Starships ($14.99)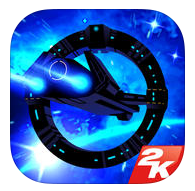 Take command of a fleet of powerful starships in this adventure-driven strategy game from legendary designer Sid Meier. Travel to new worlds, completing missions to help save and protect the planets and their people from dangerous Space Pirates, to powerful Marauders and other hostile factions. Build a planetary federation as you strengthen your fleet and secure your homeworld as you attempt to preserve intergalactic peace and your vision of humanity. Set in the universe of Civilization: Beyond Earth after the age of the Seeding, Sid Meier's Starships offers sci-fi/strategy fans a full stand-alone game experience that also features cross-connectivity with Beyond Earth, expanding the depth of both games. See if you have what it takes to rule the universe!

• Tactical Space Combat: Encounter unique tactical challenges in every mission, with dynamically generated maps, victory conditions, and foes.
• Fully Customizable Starships: Create an armada that fits your tactical plan with modular spaceship design.
• Diplomacy, Strategy, and Exploration: Expand the influence of your Federation and gain the trust of the citizens of new planets. Use the unique abilities of the each planet to enhance your fleet and Federation, and keep your opponents in check. Build improvements on worlds to increase the capabilities and resources of your Federation.
• A Galaxy Of Adventure: Explore the galaxy as you lead your fleet to distant worlds and complete missions to help the citizens of these planets. Fight pirates, protect colony ships, destroy rogue AI, and more.
• Multiple Paths To Victory: Will you win by conquering the greatest threat to the galaxy? Or will you unite a plurality of worlds in your Federation? Perhaps you will lead your people to push the frontiers of science. Each choice you make carries consequences on your path to victory.
Ulysses for iPad ($19.99)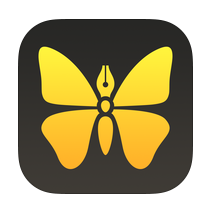 Ulysses for iPad is your one-stop writing environment on iOS. Whether you're a novelist, a journalist, a student or a blogger – if you love to write and write a lot, Ulysses gives you a uniquely streamlined toolset, covering every phase of the writing process:

- A powerful, yet simple text editor.
- A familiar, no-nonsense text library.
- A comprehensive and truly flexible multi-format export.

Of course, the heart and soul of a writing app is its editor. And Ulysses is said to have the best text editor in the world. It offers everything you need – from markup to images and footnotes, from links to comments and code –, and it still manages to stay out of the way. It's a beautiful and focused experience, which turns writing on mobile into *actual fun*.

And since Ulysses takes writing seriously, it does not stop at the editor. Its unified library offers unprecedented access to everything you'll ever write, be it snippets and ideas, be it blog posts or manuscripts. Every text is at your fingertips, literally, and Ulysses perfectly scales from scratchpad to diary to Great American Novels – and to everything in-between.

Once you're finished, export is only a tap away. Ulysses can transform your text into beautiful PDFs, web pages, standard e-books and Rich Text documents. You can copy as HTML or save to the cloud as Markdown. Export is as easy as tapping a format, selecting a style, and chosing a destination. Yes, 1-2-3. No need to leave the app.

Best of all, Ulysses offers fully-fledged, no-holds-barred, all-out iCloud sync. Ulysses is available for both Mac and iPad, and every connected device has access to everything and anything you'll ever write. Synchronization is simple, seamless and neither requires third-party apps, nor any kind of interaction. If you got iCloud, you got sync.
Buzz Aldrin's Space Program Manager ($9.99)
Buzz Aldrin's Space Program Manager (SPM) Road to the Moon is the ultimate game of space exploration.

It is the mid 1950s and the race for dominance between the US and the Soviet Union is about to move into a new dimension: space. Take charge of the US or Soviet space agencies - your duty is be the first to the moon. Carefully manage your budget by opening programs, spending R&D funds on improving the hardware, recruiting personnel and launching space missions in this realistic turn based strategy game.

Road to the Moon features the race to the Moon, the historical event that started in the early 1960s and that ended in July 1969, after the successful completion of the Apollo 11 mission.

The game features both a campaign and a sandbox mode. In campaign mode, you will be able to play as the Director of either NASA or the Soviet Space Agency in order to beat the other side to be the first on the Moon. You can also lead the Global Space Agency (GSA), a fictional space agency that combines programs from all the major space agencies in the world. In the GSA campaign, you will need to address the requests and short-term goals issued by government, and is geared towards those players who prefer a game experience focused on exploration instead of competition. Alternatively, all three space agencies feature a Sandbox mode, which provides a more open-ended experience and allows you to try out different approaches without any political pressure.

You will be able to develop dozens of programs. Some examples include the X-15 and the PKA space planes, the Sputnik satellite, the Mercury, Voskhod, Apollo and Soyuz manned spacecraft and the Mars Viking probe.

• Three different campaign modes: play as NASA or the Soviet space agency in order to be the first to the Moon or play as the Global Space Agency (GSA) and deal with the short-term objectives issued by politicians.
• Manage all aspects of your space agencies from their inception in the 1950's through to the manned lunar landing missions
• Play the race to the Moon campaign mode against other players using Slitherine's cross platform PBEM system.
• The Sandbox mode allows you to play as any of the three space agencies and removes all competition restrictions.
• Create space programs and launch missions inspired by real programs such as the X-15 Space plane, the Sputnik satellite, the Gemini, Vostok and Apollo manned spacecraft and a lot more!
• Research and develop dozens of mission components from several program categories.
• Develop your facility with advanced structures and upgrades including the Vehicle Assembly Building and the Mission Control Centre.
• Recruit and train astronaut candidates and assign them to missions.
• Assemble an elite team of Scientists, Engineers, Technicians (SET), Flight Controllers and Flight Crews for the best chance of success."
• Manage your agency's budget.
• Mission components have an associated reliability factor and can cause catastrophic failures.
• Vast amounts of historical research ensure that the game's huge database features missions that launched and many more that never left the drawing board!
• A vast array of components built in 3D and rendered out in exquisite detail allow you to follow the progress of your missions via animated sequences.

Designed in consultation with Dr. Buzz Aldrin, Apollo 11 Lunar Module Pilot and the second human being to set foot on the Moon.
Duck Bumps ($1.99)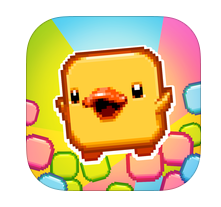 Flap away with your duck and try to bump the other ducks to bits! Oh, and watch out for those falling duck bits, they can still bump you out.

Features:
• Up to four players on one device
• Simple two-button controls
• Classic jump and bump gameplay
• Four unique, quirky levels
• Random level modifiers for extra randomness
• Ducks