Apple's iTunes Connect reopened on Monday, December 29 after being closed for one week for the holidays. This means there were very few new iPad games and apps released this week. Ace Ferrara & The Dino Menace did manage to makes its way back to the App Store after being pulled due to ownership rights issues. The popular space shooter is available for free for one more day, so make sure you grab it now. The App Store should be back in full swing starting next week after everyone gets over their holiday hangovers.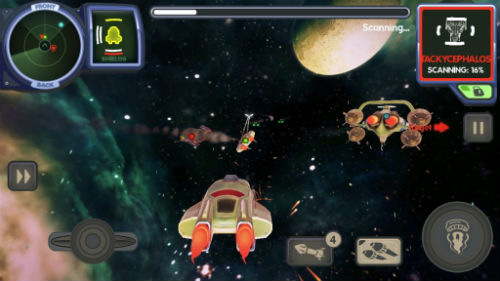 Here are this week's most noteworthy App Store releases for 12/29/14 to 01/04/15. Apple's Free App of the Week is Icycle: On Thin Ice. The game will be free on the Apple App Store until 01/09/14.
WRC The Official Game ($3.99) (Universal)
The reference for rally games, finally on smartphones and tablets!

ALL THE OFFICIAL CONTENT OF THE 2014 FIA WORLD RALLY CHAMPIONSHIP
• Drive the 18 official cars of the World Rally Championship.
• Prestigious cars: Citroën DS3 WRC, Ford Fiesta RS WRC, Hyundai i20 WRC, Polo R WRC...
• Play as any one of the 17 official drivers, or create your own!
• Play with a brand new team: the WRC World Rally Team.

RALLY THE WORLD
• Compete in the 13 official WRC rally races and win the Championship.
• Win 60 special stages around the world: Monte Carlo, Argentina, Finland, Wales...
• Drive on all surfaces and in all weather conditions.

REALISTIC DAMAGE
• Discover a system of realistic damage, visible in real time.
• Go back a few seconds at any time in the race with the Rewind feature.
• Repair your vehicle between races, but be careful: time is limited!

REACTIVE AND PRECISE CONTROLS
• Touchscreen or motion-detector controls.
• Three cameras available, including one on the front of the bonnet.
• Customizable interface.
• Compatible with many different game controllers for even more precision.

BECOME THE WRC CHAMPION
• Unlock lots of achievements
• Take on the entire world in the online rankings to find out who is the fastest!
Sparkle - Advanced Cross-Synthesis ($6.99) (Universal)
Sparkle is a tool for advanced spectral hybridizations made of several algorithms that operate on frequency domain. By means of envelope preservation and phase-sync processing it can creates high-quality sound transformations.

The basic idea is to transfer the temporal structure of a sound (source) onto another sound (target) of which the spectral properties are preserved.
Simply put, you can take a voice and make it sing a Beethoven's symphony!
Reverb - Feedback Delay Network ($3.99) (Universal)
The Amazing Noises Reverb is a Feedback Delay Network (FDN) Reverb Effect, which can create nice reverberated ambiences, from small rooms to huge buildings. It can also simulate alien and unreal spaces, for your experimental fun!

Main Features:

- Audiobus and Inter-App Audio support (sender and FX)
- Feedback Delay Network Reverb
- Space Morphing
- Endless Reverberation
- "Twisting Parameters": Reactive Walls, Random LFO, Echoes
- Built In Sampler with varispeed
- Control Manager LFO for Parameters
- Midibus, Virtual Midi and Network: 14 bit NRPN controllers
- File Manager, sharing common audio files via iTunes, Dropbox and AudioCopy
- Snapshots Presets Morphing Pad
- Post Fx Chain: Low-shelf Filter, High-shelf and Compressor
Voice Rack: FX - Vocal Effects Processor ($4.99) (Universal)
Voice Rack: FX is a real-time vocal effects processor that can be used live or connected to other music apps like GarageBand.

PROFESSIONAL VOCAL EFFECTS
Transform your voice with 50 vocal presets from TC-Helicon, the industry leader in vocal processing. The vocal presets have been expertly authored allowing you to use your voice to create musical sounds including bass lines, drum sounds, or spice up your vocals with professional effects like reverb, echo, delay, distortion, pitch shifting or HardTune autotuning. These very same effects are used by some of your favorite musicians.

CONNECT AND INTEGRATE WITH OTHER APPS
Connect Voice Rack: FX with some of your favorite music apps including GarageBand, giving you the ability to use these studio quality vocal effects in combination with any Inter-App Audio or Audiobus capable app.

100% DEDICATED TO YOUR VOICE
Voice Rack: FX brings TC-Helicon's studio quality effects to your mobile music making. The same technologies found in TC-Helicon's class leading hardware and iOS products can be found in this app.