It was a big week for the App Store as two of the most anticipated sequels launched for iOS devices. Five Nights at Freddy's made the leap from Steam to iOS on Thursday, and Ironhide Games Studio released Kingdom Rush Origins, which is actually a prequel. As expected, both titles shot to the top of the Apple app charts and are now two of the most downloaded paid games of the week.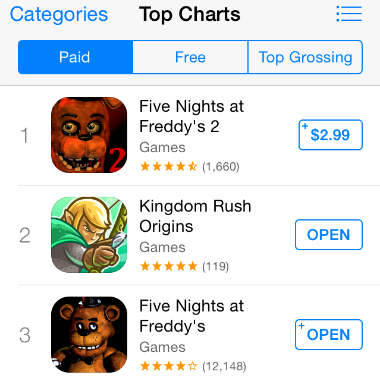 In other App Store news, Telltale revealed all the characters in its upcoming Game of Thrones series, and Disney Interactive announced that Disney Infinity 2.0 will be coming to both the iPad and iPhone in December.
Here are this week's most noteworthy iPad app releases for 11/16/14 to 11/22/14. Apple's Free App of the Week is Things. The task manager will be free on the Apple App Store until 11/27/14. Also don't forget to check out our weekly App Store recap every Saturday for all the weekly universal releases, jailbreak tweaks, App Store news and important app updates.
Five Nights at Freddy's 2 ($2.99, Universal) ***Highly Recommended***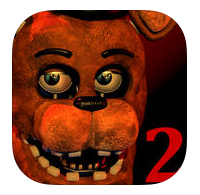 Welcome back to the new and improved Freddy Fazbear's Pizza!

In Five Nights at Freddy's 2, the old and aging animatronics are joined by a new cast of characters. They are kid-friendly, updated with the latest in facial recognition technology, tied into local criminal databases, and promise to put on a safe and entertaining show for kids and grown-ups alike!

What could go wrong?

As the new security guard working nights, your job is to monitor cameras and make sure nothing goes wrong after-hours. The previous guard has complained about the characters trying to get into the office (he has since been moved to day-shift). So to make your job easier, you've been provided with your very own empty Freddy Fazbear head, which should fool the animatronic characters into leaving you alone if they should accidentally enter your office.

As always, Fazbear Entertainment is not responsible for death or dismemberment.
Kingdom Rush Origins ($2.99 for the standard universal version - $4.99 for the HD iPad version) ***Highly Recommended***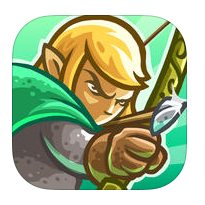 Kingdom Rush: Origins is the third installment of the award-winning Kingdom Rush saga, loved by millions and earning accolades from gamers and critics around the globe. Take a trip back to the beginning, before Vez'nan ever thought to threaten the kingdom with the gem of power, and experience even more of the lightning-fast, exceptionally captivating gameplay that made the franchise a cornerstone of essential tower defense games. In this exciting prequel, command your elven army and defend mystical lands from sea serpents, evil sorcerers, and wave after wave of gnoll tribesman, all with the help of brand-spankin' new towers, heroes, and spells to fend off every last baddie.

Kingdom Rush: Origins packs in a treasure trove of new content and features while keeping the signature look that millions have come to love.
App Store Link ($2.99 iPhone version)
App Store Link ($4.99 iPad version)
Loose Leaf ($4.99)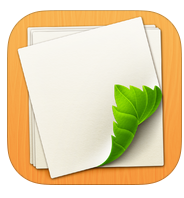 Ideas come together with Loose Leaf. Doodle, create, explain, rearrange, annotate and share without the mess. Import photos, draw quick diagrams, cut and crop with scissors. It's just simple and easy to use scratch paper on your iPad. Loose Leaf offers a uniquely simple and clean workspace for anyone with a vision.

There's a reason "a picture is worth a thousand words". Loose Leaf was made for that exact moment when pen and paper say it best. Loose Leaf is engineered to be a simple, no fuss, mobile dry erase board. It's perfect for simple drawings, diagrams, quick notes or annotations.
Egoist ($19.99)
Egoist is a groove instrument. Load any audio file and squeeze the groove out of it! Try your mp3 library and use it as a sound source! The additional onboard bass, beat and fx units make Egoist the perfect track sketch tool in the studio and on the road.
Wars and Battles - Turn-based Strategy Wargames ($6.99)
Wars and Battles is a platform of turn-based wargames that simulate historical battles and campaigns over several centuries and continents. Wars and Battles offers you rich and immersive graphics, intuitive yet sophisticated gameplay and hours and hours of game. Integrating the sophistication of traditional wargames into tablets is our commitment to players fond of strategy, history or the military.

Our first battle, Normandy 1944, takes you into the War Room of both the Allies and the Axis Powers from D-day until the Battle of the Falaise Pocket. With 317 units, 31 scenarios, 4 types of weather and 9 types of terrain, this battle contains all the characteristics and rules that you would expect from a game in which you will be rewriting history. The next battles we will release are: October War 1973, Kharkov 1943, Austerlitz 1805, Gettysburg 1863, Market Garden 1944 and The Korean War 1950-1951.

By buying the Wars and Battles app you will be able to play the campaign in each of the 7 battles we will release in 2014 and 2015. This represents more than 70 original scenarios in 7 different battles, of which there are more than 15 for Normandy 44 alone. Advanced scenarios and full battles (including "what-if" scenarios) are available through in-app purchases, so the fun never ends!