Hearthstone players no longer need to lug their iPad around to play the game on the go. Blizzard released an iPhone version of Hearthstone on Wednesday. All you need to do is update to version 2.5.8416 of the current app, and you will be able to use your Battle.net account to play on your iPod touch (fift-generation), iPhone, iPad, Mac or PC.

The third wing of Blackrock Mountain titled "Blackrock Spire" also opened on Thursday. Players can unlock the new wing for 700 in-game gold or $6.99 USD. Here's the official description:
"Blackrock Spire honeycombs the heights of Blackrock Mountain, and serves as the first line of defense against those who would dare intrude on Blackwing's domain. Nefarian's forces now occupy the former Dark Iron dwarf citadel, where you'll find the likes of ogres, orcs, and dragonspawn patrolling its halls."
The three Blackrock Spire bosses are Highlord Omokk, General Drakkisath and Rend Blackhand.
Artists who like to sketch on their iPads will want to check out the latest Paper by FiftyThree update. The app now offers free automatic backups and a new Activity Center. Astropad was also updated with Pencil support this week.
Spiderweb Software pulled Avernum 2: Crystal Souls from the App Store after discovering iOS 8.3 breaks the game. The studio also said it will not make anymore iPad games in the future.
Here are this week's most noteworthy iPad app releases for 04/12/15 to 04/18/14. Apple's Free App of the Week is Pursuit of Light. The adventure game will be free on the Apple App Store until 04/23/15. Also don't forget to check out our App Store recap every Saturday for all the weekly universal releases, jailbreak tweaks, App Store news and important app updates.
Foldify Dinosaurs ($3.99)
Foldify Dinosaurs takes the classic Foldify experience to the next level! Have fun whilst learning about your favourite dinosaurs! The fun isn't limited just to your iOS device. You can print your dinosaurs then assembly is easy, just cut & fold it up for more fun.

REALTIME 3D PREVIEW
Every action you take in Foldify Dinosaurs is previewed in real-time 3D, without any delays or extra steps.

PRINT USING AIRPRINT OR EMAIL PDF
Fun with the app doesn't have to end on your device. Print your figure using AirPrint or send as a PDF by e-mail.

FOLDIFY DINOSAURS ONLINE
Share your creations with other users, browse and like figures from around the world! You can also print all figures you see online!

TEMPLATES, STAMPS AND TOOLS
Foldify Dinosaurs includes a collection of figure templates, and many categories of stamps like eyes and mouths that make it easy to create high quality figures. Or you can always draw your own.

SHARING
Share your creations instantly. Send them over email, or share with your friends on Facebook and Twitter.
Civil War: Bull Run 1861 ($4.99)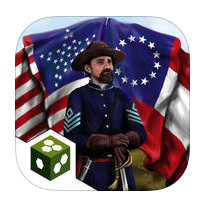 Bull Run recreates the first major battle of the American Civil War between the Union and Confederate armies. Take command of an Union army of Northeast Virginia or the Confederate army of Potomac and Shenandoah and engage in the largest battle fought on American soil to date.

This game covers the Battle of Bull Run in full, featuring the whole battle as a single mission, focus missions recreating significant points in the fighting such as Henry House Hill, and missions covering the smaller engagements in the run up to the battle.

Key Features:

- Historically accurate game play.
- 6 scenarios covering the battle of:
- Bull Run
- Blackburns Ford
- Buck Hills
- Henry House Hill
- Big Bethel
- Bloody Hill
- Accurate Civil War Units;
- 8 different types of artillery.
- 5 different types of cavalry (mounted & dismounted).
- 3 different types of infantry.
- Four categories of unit quality.
- Four categories of generals.
- Different types of formations.
- Detailed combat analysis.
- In-depth reference charts.
- Advanced tactical features including:
- Map zoom.
- Strategic movement.
- Flank attacks.
- Low Ammo.
- Hours of Gameplay
Cyclop iPad Edition ($24.99)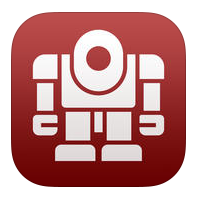 Cyclop now available on the iPad – ready to unleash monstrous bass sounds to the mobile world.

Cyclop is a monophonic synthesizer. It does one thing very well: delivering cutting-edge digital madness at the low end of the frequency spectrum.

Cyclop is the master of subs, beautifully controlling even the lowest notes, always sounding stomach-rumblingly thick. It uses mid/side processing to introduce stereo imaging between 250Hz and 4kHz. This ensures wide, interesting sounds that retain their punch and bass. There are no phasing issues, which means Cyclop cuts through the mix very nicely.

Enjoy an incredible depth of sound design possibilities, great real-time control with the Wobble Knob and FX knob. Integrated effects sequencer, vast modulation system and the preset browser will take your inspiration to new levels.

The interface has been improved for touch performance and the overall cpu usage has been reduced.

- Monophonic Bass Synthesizer
- 6x2 Synthesiser Engines, 10x2 Filter Engines
- Analog Sync, FM, Sample Transformer, Spectromat, Saw Regiment, Phase Stressor
- Vowel Filter Mode
- Free Signal Flow for 2 Oscillators, Filters and Distortions.
- Incredibly versatile modulation system
- Multi FX Knob/Sequencer
- powerful Preset Browser with tagging and rating
- Full MIDI Support (Virtual, Network, External)
- Music Library Access (Transformer Oscillator)
- iTunes File Sharing
- Inter-App Audio
- Audiobus