It was a slow week for App Store releases presumably due the the 4th of July holiday, but two highly anticipated premium games did make their App Store debuts. Civilization Revolution 2 is the sequel to the popular PC game Sid Meier's Civilization, and the PSP title Monster Hunter Freedom Unite has also been ported to iOS devices.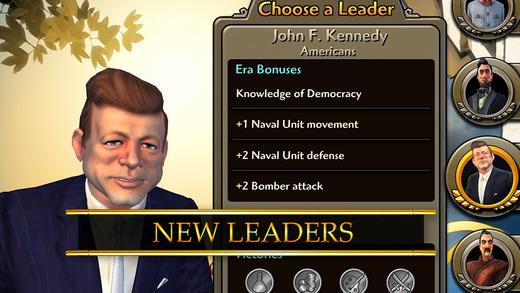 Here are this week's games and apps released for the iPad through 06/29/14 to 07/05/14. Apple's Free App of the Week is Day One. The journal app will be free on the Apple App Store until 07/10/14. In other App Store news, Rayark released a trailer for its upcoming 3D, action game Implosion, Facebook Messenger has received iPad support and Denny's has teamed up with Atari to release a suite of breakfast-themed games.
Magick ($0.99) This platform game specifically designed for the iPad is getting good reviews from outlets such as App Advice and Pocket Gamer. In the game, players must help a young sorcerer named Oz escape the dungeon of the Evil Queen. The game features a 5-part story with 60 levels, including 5 boss levels.
Civilization Revolution 2 ($14.99) (Universal App) Civilization 2 was created specifically for mobile devices. The sequel features updated 3D graphics, all new units like Aircraft Carriers, new technology and new leaders such as Churchill and Kennedy. The object of the game is to build an empire starting from the dawn of man. Players can also go head-to-head with famous dictators like Napoleon, and reenact historic events and battles in the Scenario Mode. There have been a few complaints that the game is more of a rehash than a sequel.
Monster Hunter Freedom Unite ($14.99) (Universal App) A port of the handheld PSP game, Monster Hunter Freedom Unite includes improved graphics for iOS and simple touch controls. In the game you are a rookie monster hunter navigating the Monster Hunter universe. The game also features a 4 player co-op mode.
Nintendo 3DS owners might also want to visit Gamestop.com. Monster Hunter 3 Ultimate is currently on sale for only $20. That's half off its normal $40 price.
Music Apps
ToneStack ($4.99) Signal processing app with the largest variety of amps & FX, the latest advancements in modeling technology, and an unbelievably powerful yet simple interface.