Sharp Agency in collaboration with Emu Creek Pictures has announced what they're calling the "world's first interactive Horror iBook" entitled Return to Wolf Creek.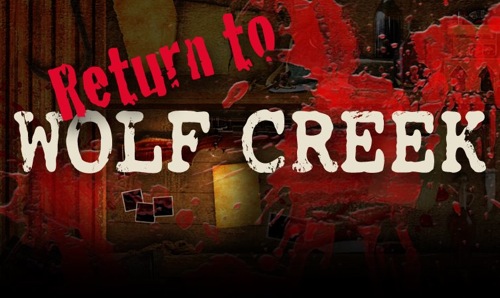 The iBook takes readers on a spine-chilling journey back to Wolf Creek with never-before-seen deleted scenes, a 45 minute documentary (The Making of Wolf Creek), interviews and more. The iBook was designed to help fans get reacquainted with the 2005 horror film. New fans will also enjoy learning about the original film before Wolf Creek 2 hits theaters in 2013.
Wolf Creek follows three backpackers who find themselves held captive by the serial killer Mick Taylor in the Australia Outback. John Jarratt will reprise the role of Taylor for Wolf Creek 2, which claims to be based on true events.
The Return to Wolf Creek iBook for the iPad will be available for download on June 15 in the iTunes App Store for $8.49. Read on for a complete list of features.
The Original Theatrical Trailer
An Interview with John Jarratt.
3 Deleted scenes
A 45 minute documentary 'The Making of Wolf Creek'.
The Original Storyboards from the creative genius of Greg Mclean.
Over 65 stunning HQ wallpapers for download to your device.
A Film Review by Author Rhiannon Elizabeth Irons that explains the ongoing popularity of the original film through Aussie eyes.
The iBook also includes: Links to the companion website that includes forum, updates and Mick's Drawer of Screams. A 'world first' in interactive books where you get to be a part of the Game and Film Industry. Dust off Mick's old tape recorder and post your scream to the 'companion website' to share with game developers and movie producers the world over. Imagine having your name in the End Credits.