Dev Team member MuscleNerd just tweeted a picture of an iPad 3 running Cydia 1.1.5. While this proves that the new iPad can be jailbroken, it does not mean that there is a new jailbreak right around the corner. It could still take a few months before anything is finalized and it's made public. The screenshot below shows a jailbroken third generation iPad running iOS 5.1. MuscleNerd wrote: "Just a first step, still lots of work to do! No ETA!"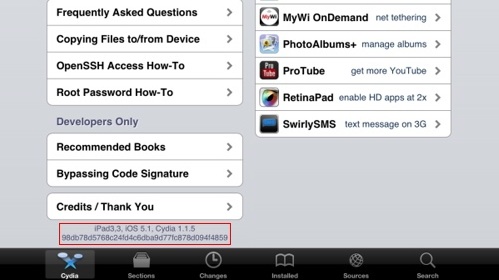 Earlier today we told you that the Dev Team and a few other iOS hackers were working on finding vulnerabilities in iOS 5.1. Pod2g, i0n1c and an unnamed person "close to the Cydia repo scene" have been looking into various unrelated methods to jailbreak Apple's new tablet. The Dev Team also warned new iPad owners not to update its firmware if they want to jailbreak their device in the future.
These are all great signs that the jailbreaking community is working hard to free the iPad 3. Hopefully a big announcement is not too far away.