Do you want to watch Flash video content on your iOS device, but want to keep using Safari as your browser? Skyfire has launched VideoQ, an app that allows you to continue to use Safari, while giving you the option to save and watch videos that it won't play.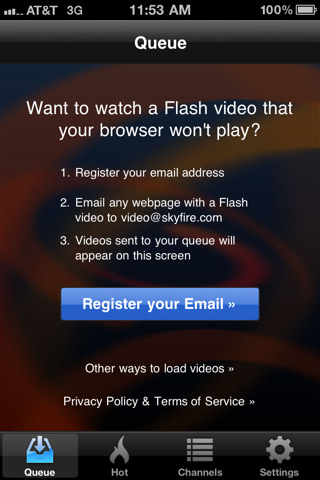 VideoQ is pretty easy, all you have to do is download the app from the iTunes Store and register your e-mail address. Once activated, you can save videos by e-mailing the link to Video@skyfire.com. This will save the video in your personal video queue so you can watch it later.
VideoQ also keeps tabs on the hottest trending videos. Just select the "Hot" tab to see what is popular on the internet that day. There are also channel filters so you can look under categories like "sports."
The VideoQ app is $1.99 in the App Store. The app works with the iPhone, iPad and the iPod touch (4.0 or later). Skyline also offers a full web browser for the iPhone and iPad for a few bucks more. Check out the video below for more info on VideoQ.