The iPad 3 has a home button! This is according to Repair Labs, which has acquired an iPad 3 digitizer and bezel. The part is pictured below in both black and white. According to this leak, the home button is exactly the same as the previous two iPad models.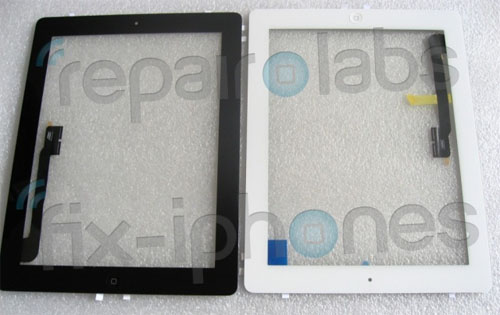 After the Apple press event invite was circulated, some speculated that the home button would become a thing of the past. The photo on the invite did not depict a home button, however no other evidence pointed to Apple scrapping the design feature.
The front part in combination with previously leaked iPad 3 chassis parts show a slightly thicker iPad 3. According to Repair Labs:
As you can see from our images, not much has changed in the look of your iPad. With the back housing in hand, and now with this piece, we can confirm your iPad will look a lot like the iPad 2, just that 1mm thicker.
Although the iPad 3 will definitely have a new logic board, it's unclear whether the device will carry an A6 processor or an interim step dubbed the A5X.
In other news, DigiTimes has revived rumors of Apple launching multiple iPad models next Wednesday. Sources have told them the iPad 3 will launch in two different flavors, with 16GB or 32GB of storage. Alongside these tablets will be an 8GB iPad 2 model with a price drop. This may not be the commonly rumored iPad Mini, but it would still give Apple increased reach into the lower end of the market.
Stay tuned for the Apple iPad press event happening on Wednesday, March 7th!