Well now we know the iPad 2 Smart Cover can attach tablet computers to the refrigerator. Definitely a reason to upgrade from the original iPad to a new model, right? Not so fast. That Smart Cover works just fine on the original iPad, if you get crafty.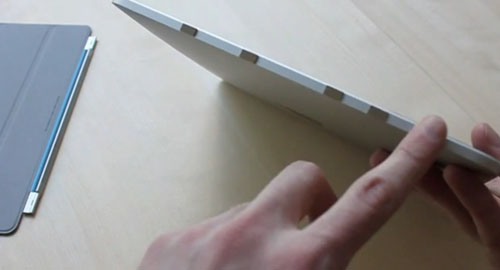 Dan Provost took the initiative and glued four rare earth magnets to the spine of his iPad 1. Although the original iPad won't turn on or off automatically with the Smart Cover, the cover can be used as a stand just like with the iPad 2. As long as the magnets are placed properly, the Smart Cover attaches to the original iPad perfectly.
Everything is lined up because the magnets were placed directly across from their counterparts inside of the Smart Cover. You can easily find the right location by placing the magnets on the Smart Cover until they stick. The strongest bond indicates where the magnets should be placed on your original iPad.
Provost used Super Glue to semi-permanently affix the magnets to the iPad's metal body. They can still be removed by gently tapping them off with a hammer and flat head screwdriver. With the magnets firmly attached to the iPad, the Smart Cover will work as a typing stand, viewing stand and screen protector. The only drawback is when the Smart Cover is removed the magnets will not be hidden or flush with the iPad edge.
Still, this is a small price to pay for having a Smart Cover on the original iPad. Not to mention that the magnets cost only 20 cents each. It sure beats spending $500 plus on a new iPad 2. Now we have to wonder if the iPad 3 will be compatible with the original Smart Cover, so we can hang that on our fridge.