It seems like an odd move to name anything after Michael Vick these days, but for those of you who have already forgiven him, Mike Vick: GameTime is a fun football game. If you enjoy tossing Hail Mary passes on Madden, then this will be a great time killer for you. The object of the game is to score as many touchdowns as possible in 60 seconds. You only control the offense, no defense, in a 4-on-4 football game. The other team earns points every time you fail to score. Very simple.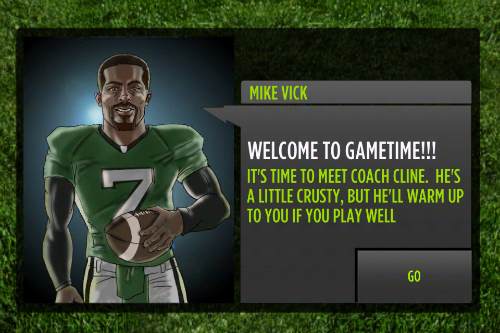 You do not play as Vick, instead you control and build your own team from the ground up. You start with a limited playbook, and a few rookie players. You earn money by playing and winning games to spend on new plays, upgrades and uniforms. There are of course in-app purchases for those who don't mind spending real money on digital money to improve their chances.
The gameplay is simple: Tap once to hike the ball, then tap on the display where you want to throw it. You can gain extra yards after the pass by swiping up to jump, and swiping left or right to spin and juke . You can also run with your QB by tapping him, but remember, you're not controlling Mike Vick from Madden '04, and you won't gain many yards with QB sneaks.
The game is kind of new, so hopefully there are more upgrades and improvements in its future. Right now you can only play the Season Tournament mode, however, there are two additional game modes, Daily Challenge and Prime Time, that are listed as "coming soon". It would also be nice if the receivers broke their routes, or moved to the ball when a play breaks down, but it doesn't really matter right now... It's fun enough just firing balls down the field and crossing your fingers.
Mike Vick: GameTime is free for a limited time via the App Store, so grab it quick. It's compatible with the iPhone and iPad, and requires iOS 4.3 or later.