Can this Microsoft tablet make a dent in Apple's iPad sales? The keyboard is built into the smart cover and provides mechanical keys and a multitouch clickpad. Not only this, but you can get the Touch Cover in a variety of exciting colors.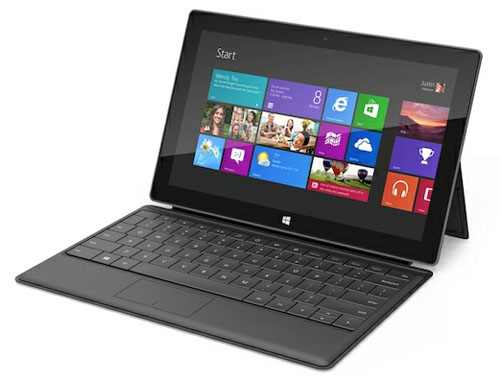 When it comes to the Surface itself, this tablet has a built in kickstand and measures just 9.3 millimeters thick. The lite version will run the Windows RT operating system, and will be priced competitively with the iPad. A second model will be more high-powered, with Windows 8 Pro and a thicker 14mm profile.
Microsoft is aiming to make tablet computing more productive by targeting the Surface at document creation as well as entertainment. Surface is expected to launch this fall, along with Windows 8 and the Apple iPhone 5. The keyboard cover is only 3mm thick, but it doesn't fold up like the Apple iPad Smart Cover.
One thing you'll get on the Surface that doesn't come with the iPad is a full-sized USB port. The RT model will come with 32 or 64 GB of storage, with the Pro version rocking 64 or 128 GB. The device will feature a link to the Xbox LIVE network and full Netflix functionality. Screen resolution and other specifications have yet to be announced. Microsoft has not revealed detailed pricing information for either Surface model.