Microsoft has really been listening to Microsoft Office users when it comes to their suite of iPad apps. The company has been adding user requested features, such as printing support, since the apps first landed on the Apple App Store back in March. Now Microsoft has announced that users can buy a monthly Office 365 subscriptions instead of having to pay for it yearly.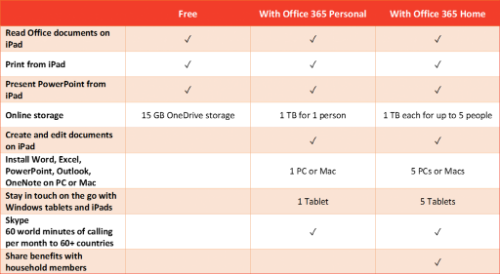 An Office 365 subscription is required to access all the features of Word, Excel and PowerPoint on the iPad. An Office 365 Personal is $6.99 a month and an Office 365 Home account is now $9.99 a month. A Personal account allows for one PC or Mac, and one tablet to be connected to the service, and a Home account allows for up to five computers and tablets to be connected.
Users can now purchase a monthly Personal or Home subscription as an in-app purchase. Users who already purchased Office 365 Home for one year are stuck with their current subscription, but monthly subscribers can upgrade to an annual subscription at any time.
All three Microsoft apps are available on the Apple App Store for free. PowerPoint, Word and Excel support all iPad models running iOS 7.0 or later.