Microsoft's Office iPad suite has received its first major update after being released almost a month ago. All three apps, Word, Excel and PowerPoint, now feature AirPrint support. Excel users can now adjust multiple rows or columns at the same time using the new AutoFit feature on both the iPad and desktop versions. PowerPoint has received a new SmartGuides feature that helps users align objects as they move them around their slides. All three apps have also received bug fixes and stability improvements.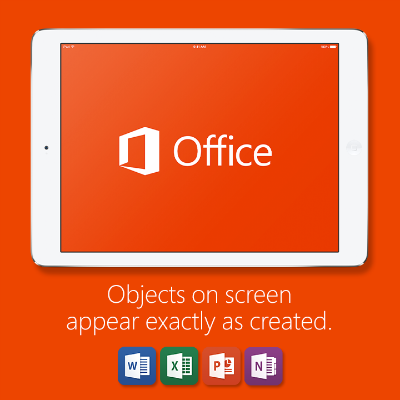 The AirPrint feature does not require an Office 365 subscription, but a subscription is required to create and edit documents on all three apps. An Office 365 Personal subscription is now available for $69.99 a year, or $6.99 a month through Microsoft's Online Store. A Personal subscription can be used with one tablet and one additional computer.
You can also purchase an Office 365 Home subscription as an in-app purchase or om MicrosoftStore.com for $99.99/year . This subscription plan allows for up to five computers and five tablets to be connected to the service.
Microsoft Word, Microsoft Excel and Microsoft PowerPoint for the iPad are all available for free on the Apple App Store. The apps require iOS 7.0 or later.