Some iPad owners might not be aware that the original model has a microphone built-in right next to the headphone jack. Both the 3G and Wi-Fi only models have a little mic hole in the same place on the iPad's metal top. Now that the next generation iPad 2 is designed for use with Apple's FaceTime video chat software, the internal microphone is getting some more attention.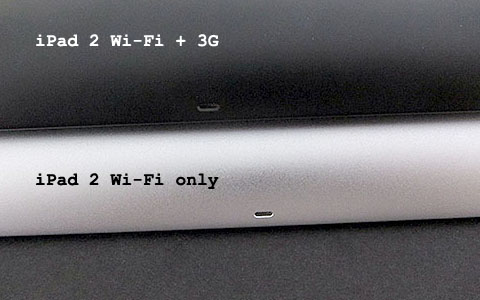 Tests have indicated the iPad 2 Wi-Fi only model captures higher quality audio than its 3G-enabled cousins. Pictured above, the two microphones were tested by iLounge in their comprehensive iPad 2 review.
The sound quality of the 3G microphone is described by iLounge as "slightly muffled and echo-prone" in comparison to the cleaner audio captured by Wi-Fi only units. iPad 2 microphones are installed in the same place on each different model; directly in the center of the top edge. The difference comes in when examining the materials and surrounding components between models.
The iPad 2 3G + Wi-Fi has a black plastic area to allow wireless signals from the cellular modem through. The 3G antenna must be mounted near to the plastic window to ensure a strong signal, putting more components in the vicinity of the microphone. On the Wi-Fi only model this design change isn't necessary, and the entire top of the device is aluminum. According to iLounge, sound quality was slightly better on the AT&T 3G iPad 2 than the Verizon model.
On all iPads the Wi-Fi antenna is located in the back of the iPad 2, with the plastic Apple logo providing a window in the aluminum for those wireless signals. Apple redesigned the iPad 2 speaker grille as well, although the change did not affect sound output quality.
Now that iPad users can take advantage of iMovie and GarageBand, the microphone will be more important, but it doesn't seem to be a deciding factor. Of course those looking to perform any higher quality audio recording on their tablets will need to purchase an external microphone, as even the built-in Wi-Fi only mic can only do so much.