Telltale Games has made a name for itself by bringing the popular Walking Dead franchise to iOS devices and other platforms as an interactive episodic video game, and now the studio is tackling HBO's popular series Game of Thrones. Unlike The Walking Dead game where players assume the role of a character not found in the comic book or TV series, players will be able to play as five different members of House Forrester, a banner house mentioned briefly in the fifth book "A Dance with Dragons".
Telltale released the first trailer and revealed some of the main characters who will appear in the game to various websites on Thursday. No release date or price has been announced, but Telltale series normally cost around $4.99 per episode. The first season of Game of Thrones: A Telltale Games Series will include six episodes.
Meet House Forrester
Lord Gregor Forrester: The Lord of Ironrath (USA Today)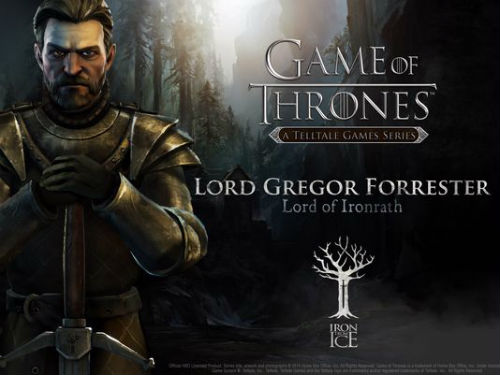 "Lord Gregor Forrester is lord of a strong Northern House and a bannerman of House Glover, who are in turn loyal to the great house of the north – the Starks. As a youth, he famously arm-wrestled Galbert Glover for the privilege of becoming the man's squire; Glover later joked that he'd gladly lose the match all over again. After his father died at the Trident, Gregor ascended to the lordship, and married Elissa Branfield at the behest of Robert Baratheon."
Lady Elissa Forrester: Lord Forrester's Wife (Mashable)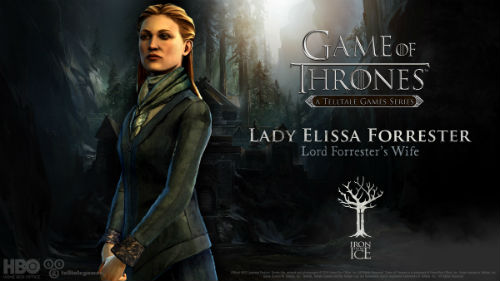 "Lady Elissa Forrester is a woman stranded far from the land she grew up, but determined to make the best of a bad situation by protecting her adopted home from danger."
Asher Forrester: Exiled Son of Lord Forrester (Game Informer)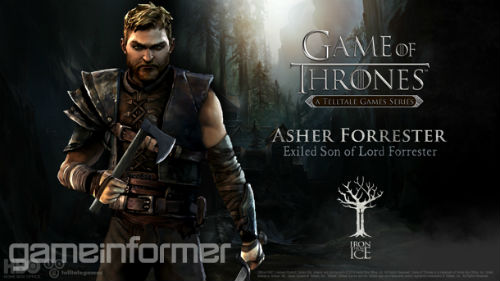 "Asher had always been a rebellious youth – brawling in taverns, sleeping with whores, and finding ways to raise his father's ire. But his life took a dark turn when, at age seventeen, he fell in love with Gwyn Whitehill, the eldest daughter of his father's bitter rival."

"Bloodshed ensued and Lord Forrester faced a grim choice: go to war, or exile Asher across the Narrow Sea. He chose the latter. Asher remains in Essos to this day, living as a sellsword, trying not to think about the life he left behind."
Rodrik Forrester: Lord Forrester's First Born Son (Entertainment Weekly)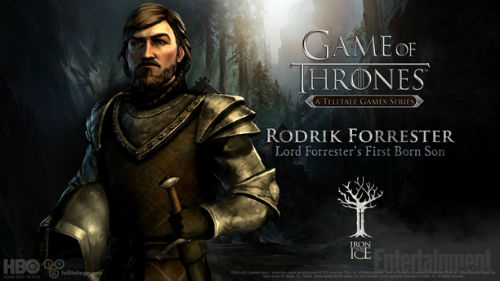 "Rodrik is the eldest son of Lord Forrester; he was trained from a young age to take on the burden of leadership. He's a man built for the position, a formidable presence both on and off the battlefield—but when Robb Stark called his banners to war, Rodrik was asked by his father to stay and protect their home, Ironrath. Rodrik refused, riding out into battle with his father and leading the Forrester army into battle with such force that he is now feared among the Lannister soldiers."
Maester Ortengryn: Maester to House Forrester (Wired)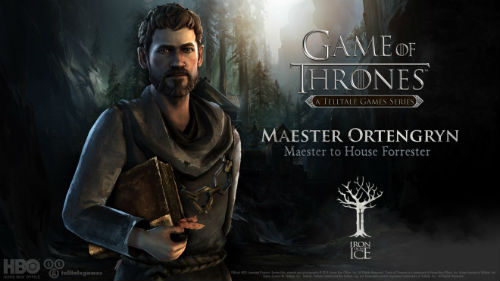 "Originating from a minor house in the Vale, Maester Ortengryn studied at the Citadel in the hope of being assigned to the Eyrie. But by the time he'd earned enough links on his chain to graduate from acolyte, Jon Arryn had been murdered and the South was in turmoil. The Citadel ultimately assigned Maester Ortengryn to Ironrath, where he soon came to respect the Forrester family's honor and integrity. He now serves the Forresters with pride and has become a trusted advisor to the Lord."
Malcolm Branfield: Lady Forrester's Brother (Nerdist)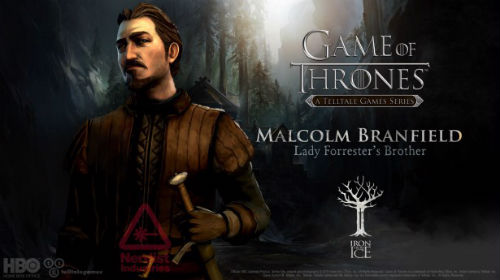 "As a young man, Malcolm was the black sheep of the Branfield family. He liked to roam the countryside in the style of a hedge knight, refusing his father's offers of marriage and lands. Malcolm fought bravely alongside his brothers when House Branfield fell; yet he and his sister were the only two survivors. Malcolm now lives with Lady Elissa's new family at Ironrath, though he still tends to disappear for weeks at a stretch. Malcolm has fathered no children, thus he is the last of the Branfield line."
Mira Forrester: Lord Forrester's Eldest Daughter (Polygon)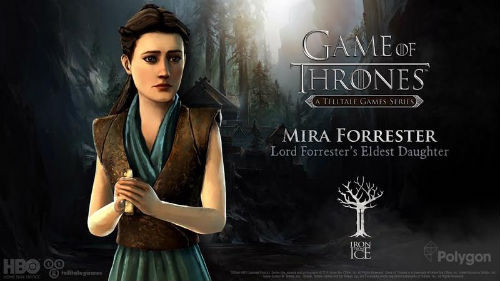 "Mira had always been fond of Ironrath, but Lady Forrester — wanting her eldest daughter to learn the ways of a Southron court — arranged for Mira to serve as a handmaiden to Margaery Tyrell. To Mira's great surprise, she enjoyed attending on Margaery at Highgarden, and followed her to King's Landing with enthusiasm. Life in the capital has not been easy for Mira, as her straightforward Northern ways are often at odds with the subtleties of court life – but she also has more guile than she realizes."
- Ethan Forrester: Lord Forrester's Third-Born Son (Game Spot)
- Talia Forrester: Lord Forrester's Youngest Daughter (Games Radar)
- Ryon Forrester: Lord Forrester's Fourth-Born Son (The Escapist)
- Royland Degore: Ironrath's Master-at-Arms (The Verge)
- Duncan Tuttle Castellan of Ironrath: (Yahoo Games)
- Gared Tuttle: Squire to Lord Forrester (IGN)