Ten years ago, Apple was working on a tablet computer known as 035. Luckily, Steve Jobs didn't like what he saw and he rejected the project before it saw the light of day. The original iPad prototype circa 2002 was not a slim, powerful device like the iPad of today. In fact, the device was three times thicker than the iPad 2 at just under one inch.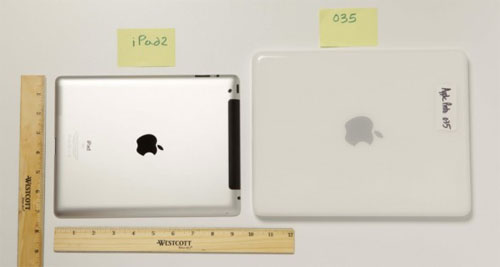 With a 12-inch display and no home button, the prototype clearly out-sized and out-weighed current iPad models according to photos appearing on BuzzFeed. Battery life and touch screen sensitivity must have also been sub-par 10 years ago, leading Jobs to shelve the project for later. Even though Apple was initially studying touch screen tablets, Jobs decided to make the iPhone first and the rest is history.
The design of 035 resembles that of the iBook laptop computers Apple was selling around the same time, with a white plastic back. In fact, as Cult of Mac points out, the prototype was one third of an inch thicker than the iBook. This makes the 035 tablet more bulky than the iBook except without the added convenience of a built in keyboard and all of those pesky connectors and ports.
Jony Ive, Senior Vice President of Industrial Design at Apple, gave a deposition for an ongoing patent lawsuit between his company and Samsung which first revealed 035 prototype photos. These images were similar to drawings included in a patent issued to Apple in 2005. It's impossible to know what would have happened if Apple launched the iPad before the technology was capable of offering the refined user experience we know today. Anyone remember the Newton MessagePad?