In celebration of Comic-Con kicking off in San Diego, Marvel starting today is offering a special all-access pass to its digital library. Comic fans can now gain access to Marvel Unlimited for only $0.99. One-dollar will give you access to over 15,000 digital comics for one month. To take advantage of this deal, go to http://marvel.com/mu and use the promo code SDCC14 when purchasing a monthly subscription. The price will go to $9.99 after your first month is complete.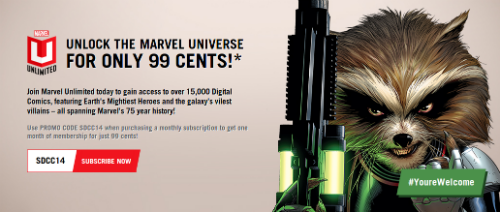 iOS users can use the free Marvel Unlimited app to read the digital comics on their iPad or iPhone. The service also works online with most browsers and on select Android devices. Users can save up to 12 comics on their device for offline reading. This means you're not getting 15,000 comics to keep for only $0.99, but you should be able to rip through big events such as the Age of Ultron, depending on how fast you read.
San Diego Comic Con runs from July 24th to July 27th. Other mobile gaming studios such as Bandai Namco and Next Games along with AMC will be previewing various games at the event.
AMC is unveiling their new Walking Dead game "No Man's Land" at booth #4237, and fans can meet the team behind Bandai Namco's upcoming collectible card game Outcast Odyssey, plus comic book artists Warren Louw and Chuck Pires for an autograph signing at booth #121.