Cartwheel is a must have app for all Target customers. It not only offers hundreds of discounts on thousands of items available at any Target retail location, but it is also easy and fun to use. The app basically allows you to shop twice, once on the app and once at the store. Here's how it works...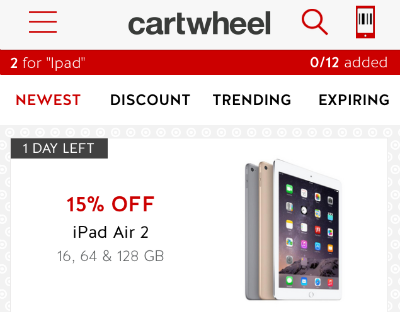 Download the app for free from the Apple App Store, then set up your personal barcode using Facebook, Target account or Google+. After your account is set up, tap the magnify glass to search for the products you want to purchase at Target and tap the ADD button to add those discounts to your barcode. You can then use your personal barcode at checkout to save money every time you visit Target until the discounts expire.
This week the Cartwheel app has savings on PlayStation 3 and 4 consoles, a Bluetooth Karaoke Machine with iPad dock and iPad Air 2 models.
You can save 15% on any capacity iPad Air 2 model until December 20th using the app. The fine print does not specify if the discount only applies to cellular or Wi-Fi-only models.