Kodak is back with a new app for the iPad after officially exiting bankruptcy and filing a patent infringement lawsuit against Apple in 2012. The app allows users to "create custom, high-quality photo books, prints, and enlargements," according to the official App Store description.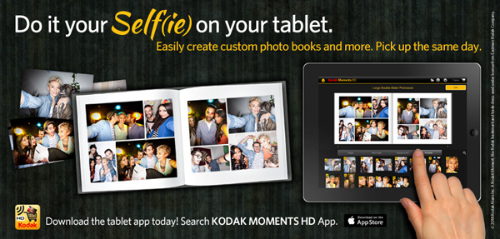 Users can create their own photo books by using images from their camera roll, Facebook, Instagram or Flickr accounts, and they can choose from variety of templates and design backgrounds to customize their photo book experience. The app features an easy to use drag-and-drop interface, and Kodak's SmartFit technology which automatically re-sizes images so there is no need need to crop anything out of a photo. Other features include Kodak's Perfect Touch Enhancement technology for cleaning up images, and the ability create soft or hard cover photo books that can then be picked up at Target or Bartell Drugs retail locations.
Users can also use a 3G/4G or WiFi connection for same-day pick-up or bring their iPad to a Kodak Picture Kiosk to have their photo books printed.
The Kodak Moments HD Tablet App is now free to download from the Apple App Store. It is compatible with the iPad 2 or later and requires iOS 7.0 or later.
Kodak also promises that it will add the ability to create collages, greeting cards, and calendars in a future app update.