iPad owners with jailbroken devices are finding themselves blocked from using Amazon's newly launched Instant Video app. A Verge reader discovered they could not access the app while using a jailbroken iPad running iOS 5.1.1. A customer service representative told the reader to contact the jailbreak provider for a solution.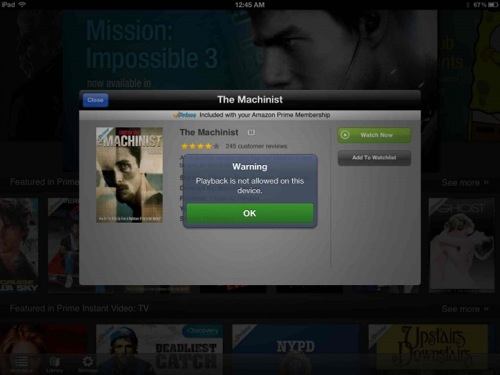 I'm sorry that the Amazon Instant Video service isn't yet working on your iPad.

The service is absolutely available to you. What we're finding is that this specific error is popping up for folks whose iPads have any kind of jailbreak installed. A jailbreak is a program installed on your device that lets you do stuff not necessarily supported by the manufacturer. For example, if Apple blocks access to fictional service provider Orange you can add a thing that gets around that block.

If you do not believe their device to be jailbroken, please see if you have any of the following apps installed on your iPad:

"APT"
"Cydia"
"Installer" ("Installer App" is okay, but just "Installer" is another version of the first, "APT".)
The presence of any of these indicates a jailbreak, and our service won't work. From the error message that you provided, it appears your device has been jail-broken. We are unable to provide any troubleshooting for your device.

You will need to contact the site or person where you received the jail-break for your device.
It's unclear if Amazon is intentionally blocking jailbroken devices, or if the jailbreaking process interferes with the Instant Video app. It may be in Amazon's best interest to resolve the problem since around 1.2 million total devices were jailbroken this year.