In a desperate move to sell more subscriptions, The New York Post has blocked iPad owners from accessing their online content. Safari users are now redirected to a page that instructs new and current subscribers to download the publication's app through the Apple Store.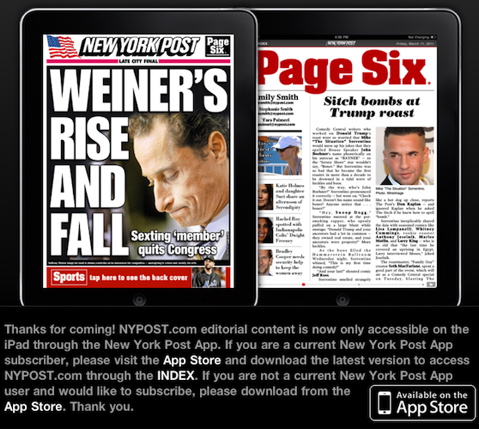 However, the NYPost.com paywall wasn't very well planned, other iPad browsers like Skyfire and Opera Mini can still access the site for free. Links from the Post's Facebook page also send people to the redirect page.
Previously, online Post readers were only interrupted with an interstitial ad promoting the app. Now they can't even access the front page without visiting the App Store.
Online subscriptions through the app cost $6.99/month, $39.99/six months or $74.99/year.