Kids aged 6 to 12 want an iPad for the holidays more than anything else this year. According to a survey conducted by Nielsen Wire, 48% of kids surveyed said they want an iPad, and 39% want a Nintendo Wii U. Apple's iPod touch and iPad mini tied for third with 36% of the vote, and the iPhone beat out other smartphones, gaming consoles and tablets with 33% of children's interest.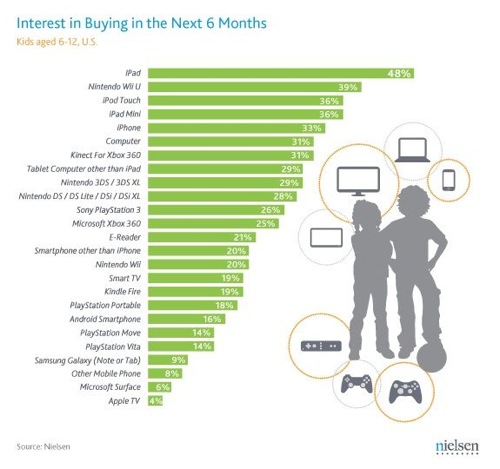 While the 4th generation iPad and iPad mini are readily available from Apple and other retailers, the Wii U is largely sold out across the U.S.. Holiday shoppers have been turning to third party sellers, and online tracking services such as whohas.it to find a Wii U console. Scott Moffitt, executive vice president of marketing at Nintendo of America, said Nintendo is doing everything they can do to ensure the Wii U will be on store shelves this shopping season. However, some are accusing retail stores of hoarding Wii U consoles for Black Friday sales. Either way, it looks like Apple products will be the much easier gifts to find and buy this year.
The iPad 4 and iPad mini with LTE support is available at select AT&T, Sprint, Verizon and Best Buy locations. Best Buy is also accepting online orders for all iPad models. Shipping times for the iPad mini are listed as "2 weeks" on the Apple store, and the iPad 4 is shipping within five business days.