According to a report in today's Wall Street Journal, Apple has put on hold plans to offer subscriptions to television shows via iTunes on the soon to be released iPad. Though the plans for subscription television via iTunes are not necessarily being shelved permanently, they are reportedly on hold pending more successful negotiations with television executives.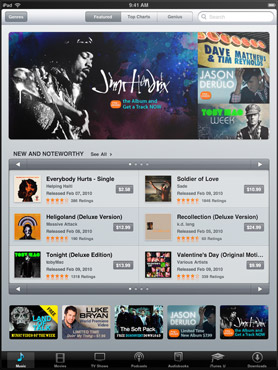 With the iPad release date nearing, Apple had reportedly been trying to strike a deal for the subscription model with network executives. However, Apple and the networks have been unable to come to terms, largely because of alleged concerns by the networks that such a model could potentially endanger
future deals with more traditional revenue sources such as cable and satellite television providers.
As an alternative, Apple is said to be trying to negotiate lower per-episode pricing for single episodes that will be downloadable via iTunes for viewing on the iPad. Current prices for television shows are typically $1.99 or $2.99 (USD). Apple is attempting to negotiate a lower price point of $0.99 per episode.
Despite other mentioned network concerns such as a lack of Adobe Flash support on the iPad and potential hampering of their own custom iPad application development plans, sources close to the situation remain optimistic that Apple will ink the deal for 99 cent television episodes just before or soon after the iPad's launch.
[via WSJ]