Just last week if you were looking for an iPad YouTube app, most likely you ended up opening the site in Safari. Now everything has changed, as Google released an updated YouTube app that is optimized for the iPad and iPhone 5 displays. Now iPad users can enjoy the same features that iPhone owners have had in the stand-alone YouTube app.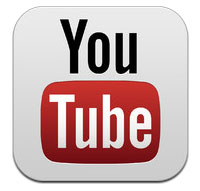 The latest YouTube app requires iOS 5.0 or later and can be downloaded for free from the App Store. The app replaces native YouTube support, which Apple removed from iOS devices with the release of iOS 6. Along with optimizing the app for more devices, Google has also added some new features to the official YouTube app.
YouTube now supports AirPlay streaming, so you can watch your videos on an AirPlay compatible device like the Apple TV. Videos can be added and removed from playlists, and tapping the YouTube logo opens your personal guide of channels. Links are now clickable in video descriptions and accessibility is improved with VoiceOver.
As always, YouTube makes it possible to watch the entire catalog of videos from around the globe. Signing in allows you to access subscriptions, playlists, uploads and more directly from your YouTube account. Comments and related videos can be browsed while watching a video, and you can share videos to Facebook, Twitter, Google+ or by email. Even search videos with voice search and query autocomplete.
YouTube version 1.1.0.4136 is an 11.6 MB download on iTunes.