First time tablet buyers who are wondering if it's worth spending $329 to $659 on Apple's first 7.9-inch iPad, will probably want to consider why they want a tablet in the first place. Amazon kicked off the 7-inch tablet craze by introducing the Kindle Fire in 2011. The Kindle Fire didn't "kill" the iPad as some had predicted, but its decent sales did prove there was a market for smaller affordable devices. Google deciding to launch the $200 Nexus 7 earlier this year is what many believed led Apple to launch the iPad mini. It was widely believed Apple would crush the competition by pricing its own 7-inch iPad to compete with both the newly released Kindle Fire HD and Nexus 7, however its steeper $329 price tag and disappointing screen resolution have left some people scratching their heads. But what tablet is the better buy?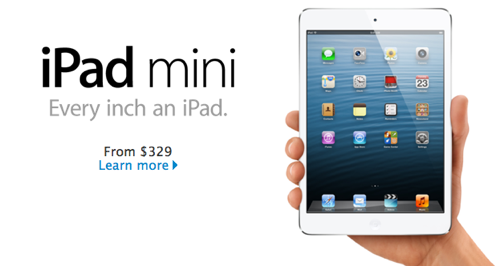 The Kindle Fire and Nexus 7 are glorified eReaders, and I don't mean that as an insult. The tablets are sold at cost to push more content through Google Play and Amazon's App Store. The Kindle Fire and Nexus 7 are geared towards people who want to watch movies or read books on the go, not tech addicts or users looking for a complete tablet experience. Buyers on a budget who are shopping for their first tablet may want to consider sticking with the more affordably priced Android tablets. Buyers who were hoping to get the full Apple experience for a more affordable price may want to consider the iPad mini, or grab an iPad 2 before they disappear. If size is your concern, and not dollars, then the iPad mini is a great choice.
The iPad mini sports a 7.9-inch non-Retina 1024×768 display. So its resolution does pale in comparison to the Nexus 7 and Kindle Fire HD. It's 7.2mm thin, or 23% thinner than the normal iPad, and it's of course much lighter than the larger iPad models. Just like its larger siblings it comes in 16GB, 32GB and 62GB Wifi-only or Wifi + cellular models. It features the same dual-core A5 chip as the iPad 2, a 1.2MP FaceTime HD camera and 5MP iSight camera. It can record 1080p HD video compared to the iPad 2's 720p HD video recording capability. The LTE models are also offered by AT&T, Verizon and Sprint like the iPad 3. Plus if you're already an Apple user, you won't have to worry about leaving the ecosystem.
Here are iPad mini prices for those considering buying. Remember, there have been many rumors of possible iPad mini shortages, so make sure you pre-order as soon as possible on October 26.
Wi-Fi Models:
iPad Mini 16GB - $329
iPad Mini 32GB - $429
iPad Mini 64GB - $529
LTE Models:
iPad mini 16GB WiFi + LTE - $459
iPad mini 32GB WiFi + LTE - $559
iPad mini 64GB WiFi + LTE - $659