Retailers seem to be clearing out iPads. Best Buy has put the iPad 3 on clearance, and now Walmart is selling the iPad mini for only $300. That's $30 less than buying it directly from Apple. This is also the lowest price we have seen for the 7.9-inch tablet since it was released last year.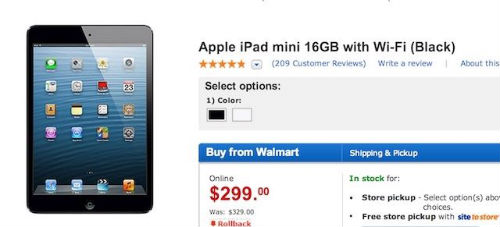 While this a good deal, you should remember that Apple is rumored to be working on an upgraded version of the iPad mini which could be released soon. However, the iPad mini 2 is only expected to get a small bump in the specs department, like better resolution, an upgraded processor, and more RAM. The next-generation device may also see a slight increase in cost. So if price is your main concern, you may want to take advantage of this sale now.
The iPad mini is basically a lighter, thinner and more portable iPad 2. It features a 7.9‑inch LED-backlit display with 1024x768 resolution, and it's powered by Apple's dual-core A5 processor.
You can nab a 16GB Wi-Fi-only iPad mini for $299 via Walmart.com.