Parts photos of the upcoming iPad Mini have leaked directly from a factory in Asia, according to UkranianiPhone.com. Although this contradicts reports that the iPad Mini has begun assembly in Brazil, the pictures show some familiar design features we've seen on recent Apple products.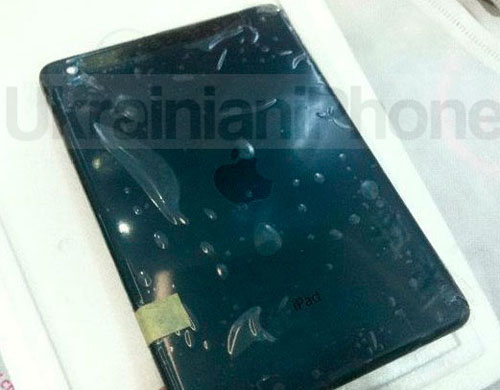 These include a unibody aluminum chassis in slate with Apple logo markings on the back similar to the iPhone 5. Much like the iPod touch 5G and iPhone 5, the headphone jack is located at the bottom of the device near the speaker ports. The iPad Mini is expected to launch as early as November 2, with a smaller front bezel and thin profile like the latest iPod touch.
The parts were revealed on 9to5Mac, which described the purported iPad Mini display included in the mix as looking more like a Kindle Fire part than a 4:3 aspect ratio iPad Mini screen. This could cast some doubt on the authenticity of the images, although other features such as the nano-SIM tray and plastic spacers for 3G and 4G radio equipment match other Apple products.
A front bezel in white was also pictured, seemingly matching the expected 4:3 aspect ratio. The iPad Mini also features the updated Lightning 8-pin connector Apple released this month. Apple is widely expected to get the smaller, cheaper iPad on shelves ahead of the holiday shopping season. According to reports, the device will feature a 1024 x 768 resolution 7.87-inch tall touch screen display.
Invitations to the Apple iPad Mini announcement are expected to arrive at media outlets on October 10.